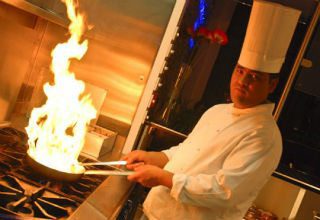 Could your local takeaway be in danger?
There has been a crackdown, in Woking, on Indian takeaways that are using specialist gas appliances for their cooking.
Following an inspection of 32 restaurants; three were closed immediately, two were given prohibition notices which forbid the use of particular equipment and eight were given improvement notices (obliging the restaurant to make improvements to their conditions within a certain time period). 21 restaurants, in total, were sent letters explaining the legal requirements of gas appliances.
This has all come about due to gas leaks in some of the restaurants. Some of the restaurants were deemed to be 'immediate risks' while others could have been dangerous in the future. Woking Council are looking into the possibility of investigating other types of takeaways and restaurants such as Italian and Chinese.
We feel that the major worry here is that because many Indian takeaways and curry houses all over the country use these specialist gas cookers, there are a lot more gas leaks that have not been discovered. Out of 32 restaurants in Woking, nearly half had action taken against them in order to prevent the danger caused by gas leaks. We sincerely hope that this does not reflect the rest of the country. Could what's happened in Woking be common practice across the whole of the UK?
So, this is Curry Culture's appeal to takeaways around the country, please make sure your cookers are not pouring out gas. We would all rather feel like we're on fire because of the vindaloo we just ate rather than actually be on fire.