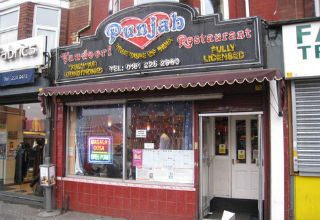 The Curry Mile in Manchester, while being a hive of activity for curry lovers, often takes criticism from curry connoisseurs. People have said that the majority of the restaurants on the curry mile deliver average quality food all for a similar price. So, when you go there the experience does not usually differ that much from restaurant to restaurant. Unfortunately, it is often reported that when the experience is different, it is worse.
Are these assumptions true?
We decided to try out one of the Curry Mile's smaller, less well-known venues to see if we could prove or disprove the myth. So here we go, our short review of Punjab:
AMBIENCE 8/10: Although Punjab is one of the smaller restaurants on the curry mile, it does not feel cramped in any way (unlike Shahenshah which is a few metres away). Having been recently refurbished, the décor is traditional with a modern feel and lends itself brilliantly to the atmosphere in the restaurant. The music and the gentle buzz of people in the restaurant made the size of the restaurant feel cosy.
SERVICE 9/10: Absolutely excellent. All staff were very friendly and polite and they gave off the impression that it was a family-run establishment. All food was served very quickly and without any problems. The staff made us feel important and the manager asked our opinion of the food which showed a great level of consideration.
FOOD 8/10: The shared platter that we ordered for starter was a great mix of small Indian foods and was an interesting way of combining something you definitely liked (onion bhajis in my case) with something you had never tried before. The lamb dhansak I had for my main course was lovely but not the best I have ever had, but my partner's rogan josh was her absolute favourite. The food was served in the standard Indian restaurant/curry mile style, starting with poppadoms and chutney and progressing from there.
OVERALL: Punjab certainly went a long way towards dispelling some of the Curry Mile's myths and is one of the best restaurants there. Definitely a different experience and for the better. Worth a visit.