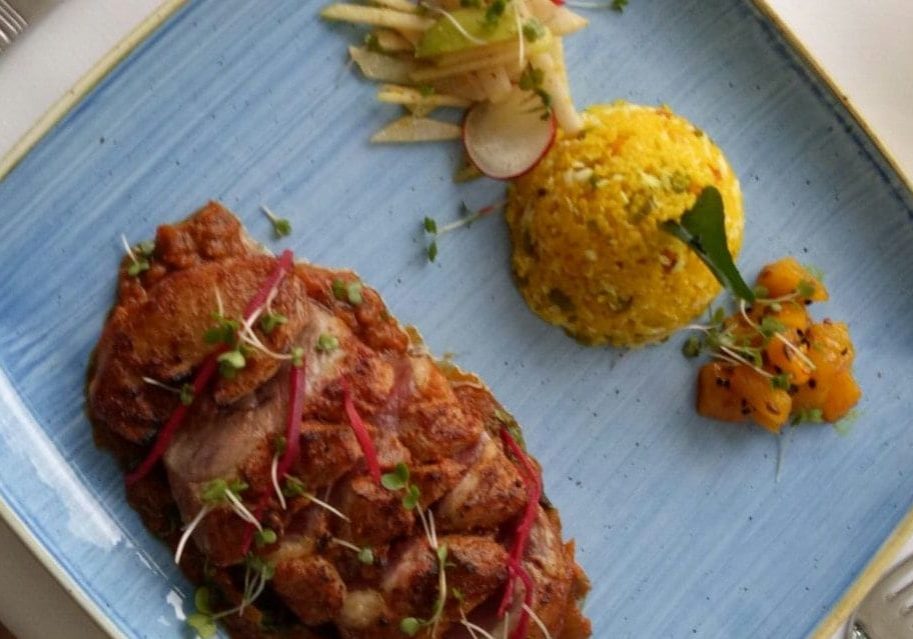 This fine dining duck recipe comes courtesy of guest chef Awanish Roy who is the Executive Head Chef of Saffron Summer.
An Indian "haute cuisine" restaurant, this recipe is their interpretation of a very popular duck dish from Pondicherry, an erstwhile French Colony in India.
Although the ingredients list is a little scary, I am sure it will be worth the effort for that special occasion and the recipe includes a suggested side dish of Couscous Upma but you can of course choose another if you prefer.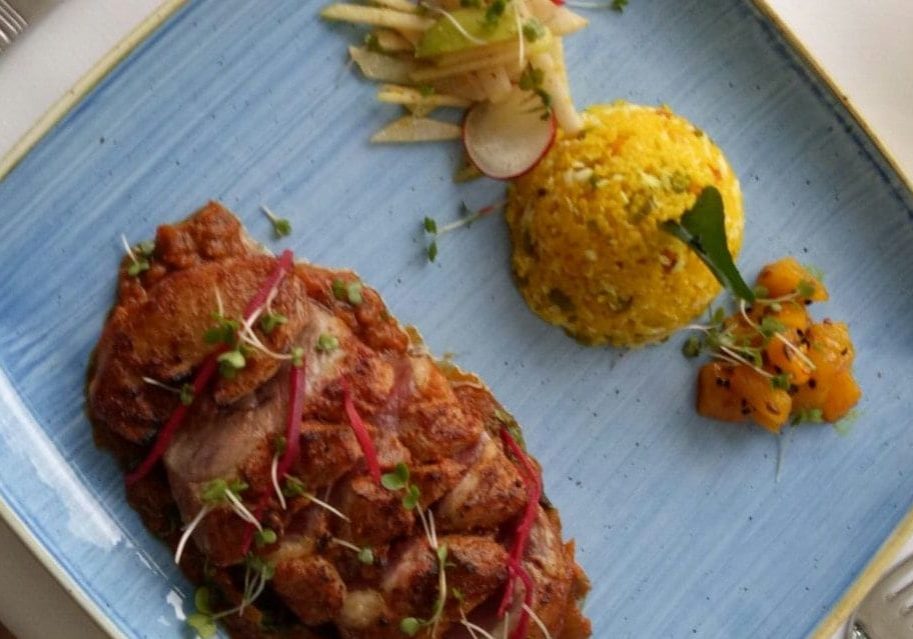 How to Make
Pondicherry Duck
Trim the duck breasts for any unwanted fat and make a few gashes on the skin for the spices to penetrate. Rub the spice mix thoroughly on the breasts and leave it aside for a couple of hours in the fridge.
To prepare the sauce, heat the oil in a thick bottomed pan. When the oil is hot add the mustard seeds and curry leaves and allow them to crackle. Add the sliced onions and cook it on a slow flame for about 6-8 minutes until soft. Add the ginger garlic paste, salt and ground spices, cook for about 2 minutes. Finally add the grated coconut, fresh coriander and lemon juice.
For the couscous upma, boil the couscous in plenty of water with salt and turmeric powder. Heat the oil, add the mustard seeds and curry leaves followed by the mixed vegetables and sauté the vegetables for a few minutes until tender. Add the chopped ginger, salt, coconut and fresh coriander and cook for another minute. Gently mix in the boil couscous and adjust the seasoning.
Grill the duck breast on both sides (skin side first till the skin is crispy) and cook it in an oven for about 6 minutes at 180C. Take it out from the oven and allow it to rest for a couple of minutes. Evenly slice them and serve it on the sauce bed with the couscous upma, some fresh salad and a chutney of your choice.
Ingredients for
Pondicherry Duck
2 x Female Gressingham Duck Breasts
For the spice rub
Kashmiri Chilli powder – 1 Teaspoon
Vegetable Oil – 2 Tablespoon
Salt – 1 Teaspoon
Roasted clove and cumin powder – ½ Teaspoon
Orange Zest – 1 Teaspoon
For the Sauce
Coconut Oil – 100 ml
Mustard Seeds – 1 Teaspoon
Curry leaves – 1 Sprig
2 x Sliced Red Onions (Large)
Ginger Garlic Paste – 1 Tablespoon
Salt – To Taste
Red Chilli Powder – 1.5 Teaspoon 
Turmeric Powder – 1 Teaspoon
Coriander Powder – 1 Teaspoon
Garam Masala Powder – 1 Teaspoon
Black Peppercorns Crushed – 1 Teaspoon
Grated Fresh Coconut – 4 Tablespoons
Chopped Fresh Coriander – 2 tablespoons
Chopped Green Chillies – ½ Teaspoon
Lemon Juice – 10 ml
For the Couscous Upma
Couscous – 50g
Coconut Oil – 50 ml
Mustard Seeds – ½ Teaspoon
Curry Leaves – ½ Sprig
Chopped Mixed Veg (carrots, beans & cauliflower) – 20g
Chopped Fresh Ginger – ½ Teaspoon
Grated Fresh Coconut – 1 Tablespoon
Chopped Fresh Coriander – 1.5 Teaspoon
Salt – To Taste
Links to other recipes and useful information about this recipe:
For more information about the menus of Saffron Summer, you can take a look at their website by following the link below: