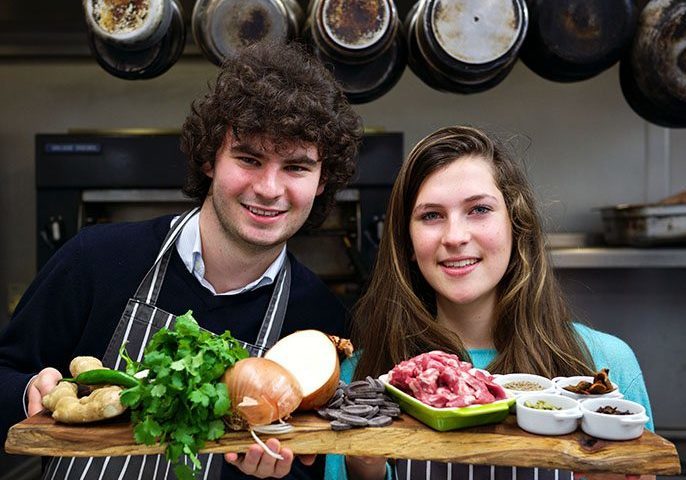 Have you ever thought about mixing chocolate and curry?  No?  That's exactly what two young chefs from Sherbone  have done.
Innovative chefs Dominic and Bella have unlocked the secret of the ultimate teenage curry ideal for Diwali or "festival of lights", one of the most important festivals for Hindus.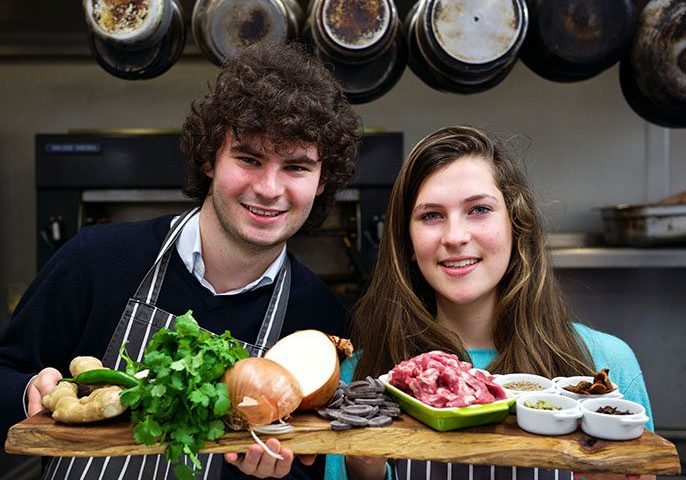 How to Make
New Chakra Curry
They believe this curry can hold the answer to many teenage ailments. With turmeric to clear acne, ginger to keep winter colds at bay and cinnamon to boost memory function for exams to name a few, the innovative lamb and chocolate curry recipe is been designed to improve the health and well-being of the nation's teens.
Their research into the health-giving properties was gathered from studies from Ohio to Iran, so they're confident that there is substance behind the spices.
They've taste-tested this new 'Chakra' curry among their friends and the response has been very positive, despite some initial reservations about mixing chocolate with curry.
Who knows, they could be on to something!
The Ultimate Teenage 'Chakra' Curry Recipe
Dry fry the cloves, cumin seeds and cardamom pods in a frying pan over a medium heat for 1-2 minutes until lightly toasted and the aroma is starting to release. Grind to a powder with a pestle and mortar, add the turmeric and asafoetida. Put the cubed lamb in a large bowl and rub in the spice mix, along with the grated ginger, chilli and garlic to marinade.
Warm the rapeseed oil in a deep frying pan over a medium heat and fry the onion until soft but not brown. Place the lamb in the pan and sear it before pouring in the chopped tomatoes and the water and the cassia bark. Add the grated chocolate and a pinch of salt and bring to a simmer. Cover and cook for an hour or until the meat is cooked and the sauce is thickened.
Add the lemon juice and season to taste.
Take off the heat and garnish with fresh, chopped coriander before serving with rice and chapattis and/or naan bread.
Ingredients for
New Chakra Curry
4 x cloves
1 x heaped teaspoon cumin seeds
4 x green cardamom pods (split them and just use the little black seeds)
1 x teaspoon turmeric
1 pinch asafoetida (use sparingly as this is pungent!)
2 x cloves garlic, crushed 500g cubed lamb shoulder
1 x small hot green chilli, deseeded, finely chopped
2 x tablespoon rapeseed oil4cm root ginger, peeled and grated
1 x large onion, peeled and diced
1 can chopped tomatoes
Piece of cassia bark
500ml water
30g dark chocolate 80%, finely grated
Sea salt and pepper
Handful of fresh coriander, chopped
Juice of ½ lemon
Links to other recipes and useful information about this recipe: