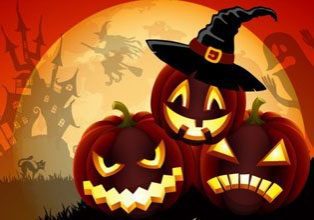 Witch's Curry Cauldron – Something spicy to enjoy on Halloween
Once upon a time, in the north of England, there was a scary Witch who every 31st of October, dusted off her cauldron, went into the forest to gather all the needed ingredients and cooked a spooky Curry Halloween Recipe.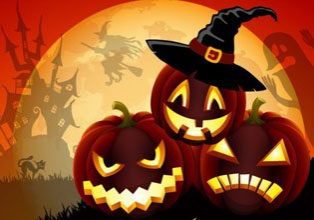 How to Make
Halloween Curry Recipe
Witch's Directions…
Firstly make the mysterious curry paste: Grind coriander, cumin, peppercorns, and salt with a mortar and pestle, or with the bottom of a heavy skillet. Add the remaining ingredients, and grind them until a paste forms.
Secondly make the hag's stew: Puree 5 tablespoons of curry paste, the spinach, and 1 cup regular coconut milk in a blender until smooth.
Finally bring the remaining regular coconut milk and the light coconut milk to a boil in a medium heavy stockpot. Reduce the heat, stir in curry-spinach mixture, and simmer it for 5 minutes. Add the courgette, and cook until is slightly tender, about 5 minutes. Add the chicken, and the season with salt and pepper. Cook until the zucchini is tender and the chicken is cooked through, about 5 minutes. Add the basil, and the garnish with serrano chiles. Serve with rice and lime wedges.
Ingredients for
Halloween Curry Recipe
For the Mysterious Curry Paste
1 x tablespoon whole coriander seeds, toasted
2 x teaspoons whole cumin seeds, toasted
1 x teaspoon whole black peppercorns, toasted
1 x teaspoon coarse salt
3 x red chillies, sliced
1/2 cup fresh coriander
2 x stalks fresh lemongrass, trimmed and chopped
8 x garlic cloves, minced
2 x scallions, chopped
2 x tablespoons chopped peeled fresh ginger
2 x tablespoons fresh lime juice
1 x tablespoon finely grated lime zest (from 2 limes)
For the Hag's Stew
2 ounces spinach
1 can unsweetened regular coconut milk
1 can unsweetened light coconut milk
1 medium courgette, quartered lengthwise and sliced 1 inch thick (21/4 cups)
12 ounces boneless, skinless chicken breasts, cut into 1-inch pieces
12 ounces boneless, skinless chicken thighs, cut into 1-inch pieces
Coarse salt and freshly ground pepper
3/4 cup fresh basil
Serrano chillies, thinly sliced, for garnish
Links to other recipes and useful information about this recipe: