It's always great when you discover a new source of street food and we were lucky enough to come across Naunit's Gujarati Street Eats this weekend on a visit to Bury Market.
Specialising in a range of traditional vegetarian Gujarati snack foods I tried their Channa Chaat special which came served on top of a crushed samosa, all for the very reasonable price of £3.50.
It was bloody lovely I have to say and the perfect lunchtime meal. Mildly spicy and with a hint of Tamarind this is a different recipe to the Channa Chaat I have made at home but it was much better so I am going to have to up my game next time I give it a try.
Their menu includes other snack foods such as onion bhajis and spicy mashed potato balls (vadas) as starters and Cauliflower curry and Lentil Daal as mains.
If you are lucky enough to live nearby you can get all the ingredients for a vegetarian meal for two for £10. This is an absolute bargain and if you check out their Facebook page (Naunit's Gujarati Street Eats) then you can see their full menu.
They also offer catering so if the weather ever gets better and you are having a party then why not give them a shout. Your vegetarian guests will be delighted I am sure.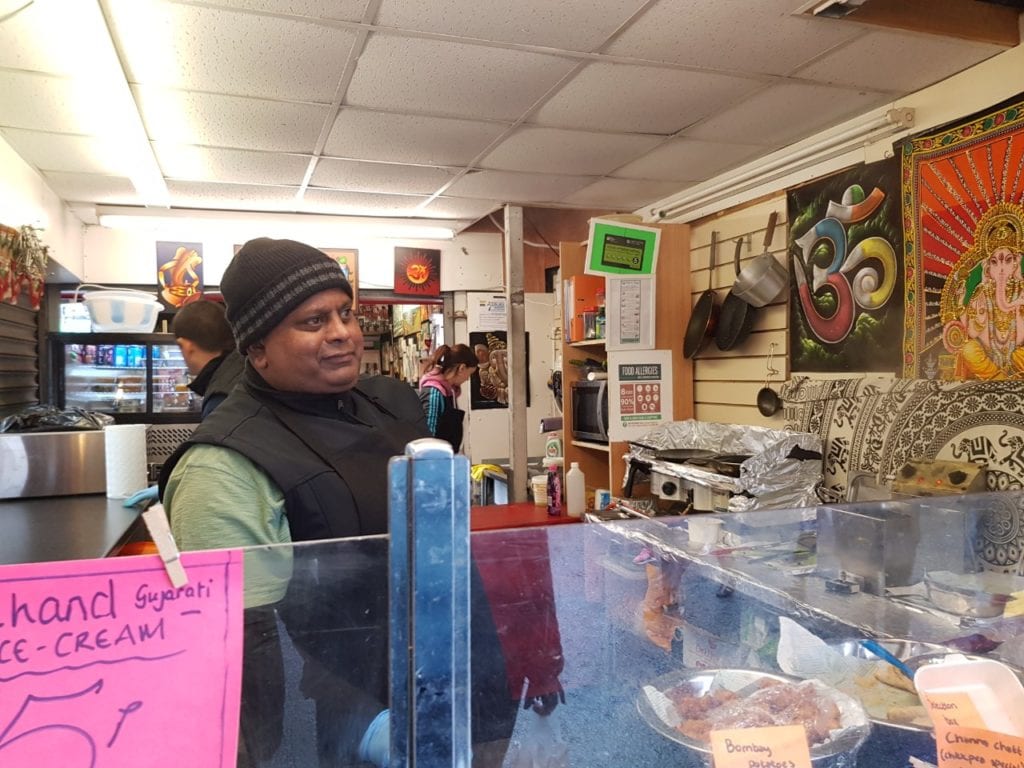 There's nothing fancy about their setup, just a good honest street food vendor offering you a totally different taste that is a delight. There is a tendency for many Indian restaurants to play it safe but they are finding it harder and harder to survive in this massively competitive market. Take a look around and it's those offering a bit of innovation who are making a success of things. This kind of simple street food is available in all regions of India, Pakistan, Bangladesh, Nepal and Sri Lanka. Introduce it to your customers in new menus please.
We hope Naunit makes a real go of it and succeeds in spreading their simple but delicious dishes far and wide.