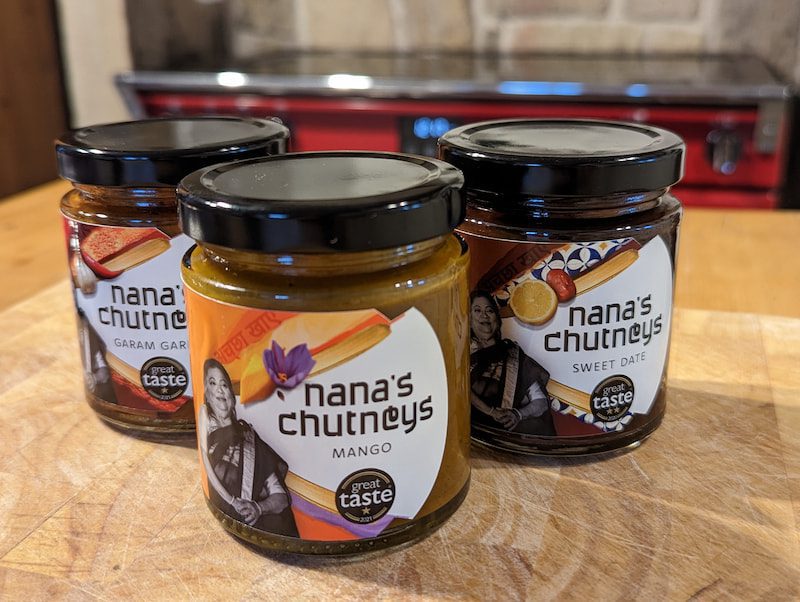 So it's been a while since I bought these chutneys after seeing them pitched on Dragon's Den one evening, but I have to say Nana's Chutneys are some of the best on the market. I bought a three pack of Mango, Sweet Date and Garam Garlic and all are excellent.
The Mango Chutney is not just another sweet goo that so many seem to be these days (although I do still like sweet goo I have to admit) but has a blend of cinnamon, saffron and cumin oil that gives it a much more interesting flavour. It's still sweet, don't get me wrong, but this is going to be my go to chutney to accompany just about any dish.
I am also a masive fan of dates and can happily munch my way through a box, so seeing the Sweet Date option was part of the pack was good news for me. This fruity little number is again very sweet but works well with cheese and drizzled over chaats.
Last on the menu was the Garam Garlic. This is my least favourite of the three because it moves towards what I would describe as the "lime pickle" end of the chutney scale and I have never really found a lime pickle I like. It's probably best for me to mix it in with something else as I am not a massive fan of the quite oily texture when trying it on it's own.
They do offer a fourth chutney, the Chilli and Corriander, which sounds like a belter but also seems to be hard to get hold of. It's on the photos of their website but not in the shop so I have yet to get my hands on a jar. If you have and want to let us know what it's like, leave a comment below.
And for more information or to buy their chutneys, head over to their website here: https://nanaschutneys.com/
For the skeptics: I have no affiliation with Nana's Chutneys, bought my own products and have not been asked or paid to write this post.