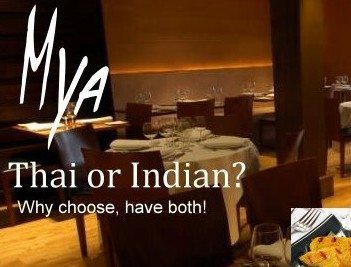 Situated in the fashionable commercial quay in Leith, Edinburgh Mya has over ten years experience with both Thai and Indian cuisine.
On Wednesday 29th February they will be opening their doors to the city's Big Issue vendors. Those choosing to attend the event will be invited to enjoy a buffet comprising of some of the Thai and Indian dishes that Mya is known for.
With the tough life a Big Issue vendor experiences it's great to see a top class restaurant putting something back into the community and helping those who have fallen on hard times. It's easy for the rest of us to forget that eating out isn't an option for everyone.
Big Issue vendors from around Edinburgh will be able to take a break for a couple of hours and enjoy a free lunch from 12.00 to 14.00 in the comfort of the restaurant. The buffet lunch will include Thai soup, spring rolls, pakoras, a biryani and a salad
Members of the public will also be invited to attend and will be charged £7.95 per head, with the proceeds being donated to the Big Issue Foundation.
Selling the Big Issue gives an opportunity to make money to some of those who need it most. Vendors purchase the magazine directly from The Big Issue Foundation at £1.25 per copy, and sell them on to customers for £2.50; for many vendors the chance to start making their own money is all they need to be able to turn their lives around completely.
Curry Culture commends Mya for their charitable work in the community and would welcome news of other businesses in the industry who are doing their bit for their local area.