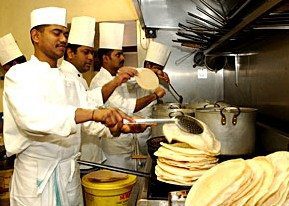 Recession, belt- tightening, budget restrictions– these are words that we hear pretty much everyday on the news.  Since his election in 2010, David Cameron has been following the ConDem austerity programme and alongside the budget cuts they are committed to cutting immigration to tens of thousands by the next election.  Immigration policies are getting tougher as non- EU immigrants are " kindly" requested to leave the country.
If you are a non-EU resident and you want to work in the UK as a chef, beware! If you aren't a graduate, have little or no experience and if the job you are looking for is paid less than £31,000 a year, then don't even think about coming to the UK.
The unexpected consequences of this immigration crackdown are huge for the Asian food industry as Ethnic restaurants are now running out of trained chefs and the dearth of local talent means there is a big gap to fill.
The Government's answer is quite simple: new skilled chefs will have to be found within our borders. Until now it seemed natural to hire chefs from the area the food originates from and restaurants regularly hired new people from all over the world. Now that there is a shortage caused by the immigration crackdown we will either have to pay much higher salaries or we have to look to our home-grown pool of talent.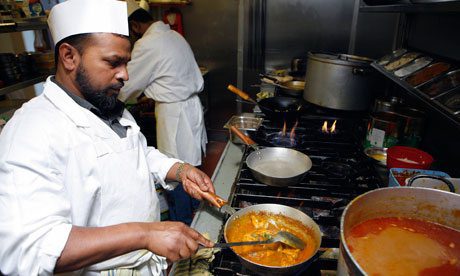 The problem is that very few programmes exist to train people to become a specialist chef  in Indian, Thai or Chinese food so with these new restrictions, the UK has to develop new Asian and Oriental chef courses fast to encourage young people into the industry. Some apprenticeships in Asian and Oriental cuisine have been created as a result of this change in immigration policy. As previously reported British communities secretary Eric Pickles has proposed to establish a "curry college" to train British chefs in the art of Indian Cuisine to fill the gap created by the Government's policy on immigration.
The new Government's philosophy is to cut the number of immigrants at all costs even if it means that some industries will suffer from it – it is now almost impossible to hire chefs from India, Pakistan and Bangladesh. UK immigration Minister Damian Green said  "We need to know not just that the right number of people are coming here, but that the right people are coming here. We have laid the foundations for a sustainable system where we get numbers down and keep them down. Now we shall make it work for Britain" .
The government expect the restrictions will benefit unemployed people in Britain but according to Enam Ali, owner of  the award winning restaurant Le Raj, "There may be more than two and a half million people out of work in Britain. But I guarantee that none of them are a talented curry chef". As Chefs were usually trained within the family business and learnt directly from their parents or grandparents, a so-called "curry college" is likely to take many years to bear fruit.
Mr Ali also pointed out that "A new salary scale will not benefit the restaurateurs or the diners. Restaurants will have no alternative but to pass the cost to the diners and this will directly effect on their takings. Who will accept paying £20 for a chicken tikka masala? I do support the governments concern about immigration, but the laws need to be more flexible."
Let us know what you think as this topic is key to the Asian food industry and is likely to have a long term impact on both the quality and price of what you eat.