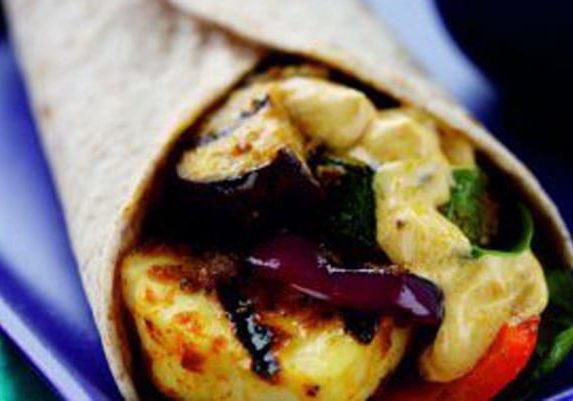 Looking for something to eat for lunch? Well look no further, we have the perfect recipe for you, courtesy of guest chef Anjali Pathak.
Anjali has been passionate about  food and cooking since her earliest childhood – after all she is part of the Pathak family (yes that Patak family – they dropped the 'h' in the 50's).
Today, she shares her Masala Chicken Wrap recipe with us.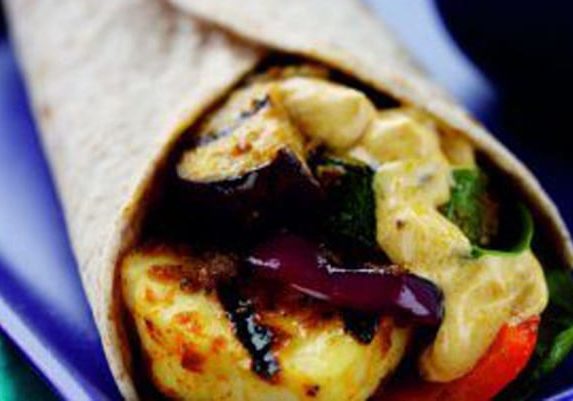 How to Make
Masala Chicken Wrap
Serves 4 people
These wraps are so delicious and easy to make, and you can use up leftover meat and veg. Great when you aren't too sure what to eat but fancy something to munch on.
1. In a bowl make the marinade by mixing together 1 tablespoon of yoghurt with the garlic, garam masala and chilli powder (if using). Add the chicken, stir well, cover and pop in the fridge for a few hours if you have time.
2. Heat a griddle pan. Remove the chicken from the marinade and lay across the grooves.
3. In the meantime drizzle the oil over the onion, red pepper and aubergine.
4. Sprinkle over the cumin seeds.
5. Add those to the griddle pan and allow to soften and colour before turning over.
6. Turn over the chicken and cook for a few more mins until it is cooked through. If it is stuck then leave it a little longer before turning it.
7. Mix the Brinjal Pickle with the remaining yoghurt and spread a good dollop down one side of the wrap.
8. Add some spinach and then top with masala chicken and some veggies.
9. Simply wrap and serve with some extra dip on the side.
Ingredients for
Masala Chicken Wrap
4 x tablespoons thick low fat yoghurt
1 x clove garlic, crushed
1 x teaspoon garam masala
1/4 teaspoon red chilli powder (optional)
2 x chicken breasts, skin removed and cut into long strips
1 x tablespoon vegetable oil
1 x red onion, thickly sliced
1 x red pepper, thickly sliced
1 x small aubergine, thinly sliced
1 x teaspoon cumin seeds
1 x tablespoon Brinjal Pickle
8 x wraps
good handful of spinach, washed
salt and pepper, to taste
Links to other recipes and useful information about this recipe:
This recipe was reproduced courtesy of guest chef Anjali Pathak