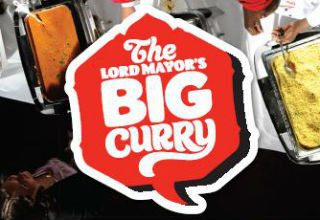 Since 2008, the Lord Mayor's Big Curry Lunch has been raising money for the Soldiers' Charity – a charity which helps soldiers who serve or have served in Iraq and Afghanistan, as well as their families. On 18th April, the annual event will kick-off for the sixth time, hoping to add to the already-impressive total of £860,000 raised since its inception.
The event is usually attended by city professionals, business leaders, members of the Houses of Parliament, senior officers of the British Army, ambassadors and high commissioners and the Masters of the City's livery. In addition to this, it will be hosted by The Rt Hon The Lord Mayor Alderman Roger Gifford, the 685th Lord Mayor of The City of London.
The theme for this year's event is 'Best of British' to honour Great Britain's achievements in the London Olympic and Paralympic games as well as the Queen's Diamond Jubilee. Michael Hockney, Chairman of the Lord Mayor's Big Curry Lunch Committee hopes to break the £1 million barrier for total money raised for the Soldiers' Charity. He says:
"Hitting the million pound mark in 2013 for such an important cause would be a significant achievement and show how The Lord Mayor's Big Curry Lunch has gone from strength to strength."
The event has support from some of the food industry's biggest names, including: Jamie Oliver, Heston Blumenthal, Simon Rimmer and Anthony Worrall Thompson.
Tickets for the event are £95 and these include: wine, beer, water and the lunch itself. So, if you are looking for a way to support our country's soldiers, are in London on Thursday 18th April and are partial to a tasty curry, this event is well worth your attendance.
It's fantastic to see the curry industry contributing towards raising money for such an excellent cause and on behalf of all of us here at Curry Culture, we wish the event the very best of luck.