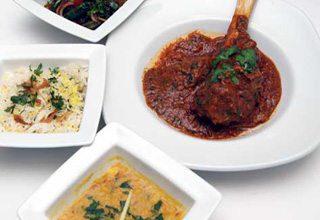 A staple for drunk students stumbling down the curry mile (and hungover students the morning after) curry is often considered a naughty indulgence. But as Sunil Kumar Sinha, head chef at Massala in the wealthy suburb of Cobham in Surrey, is trying to prove, a curry needn't be fattening. In fact, Sunil often cooks for the figure-conscious Surrey WAGs and is keen to demonstrate, through his menu and new 'WAG Curry Diet', how these ladies eat so well whilst still keeping their figure.
Sunil has confessed that, 'Real Indian food is incredibly wholesome and many spices have health benefits', which can actually promote weight loss. He explains that it is the anglicisation of curry which makes it so fattening – full of oils and fats, and served up with copious amounts of deep-fried sides and booze.
Massala's menu proves that curry doesn't need to clog your arteries to be delicious. WAG favourites include oil-free Ajwaini Jhinga (marinated prawns) grilled in a clay oven for an extra succulent texture, and vegetarian Sukhi Meloni Subzi which is made up of peas, carrots, broccoli, corn, and beans in a spicy tamarind sauce. Carnivores are also catered for with dishes such as the Massala Platter – an assortment of chicken, lamb, seafood and paneer dishes, which are also cooked in Massala's trademark charcoal burning clay Tandoor oven for a unique flavour.
For those looking for a new way to lose weight, Sunil has created the '7 Day WAG Curry Diet' – a week-long food plan made up of healthy Indian dishes, designed to stimulate the body's metabolism. The menu is full of wholesome yet flavourful dishes that can be cooked at home, such as Chicken Chilli for lunch on a Tuesday, Lamb Tika for a snack on Thursday, and Pepper Steak with Chillies for dinner at the end of the week. Of course, none of these dishes are to be served with deep-fried popadums or piles of pilau rice, and the calorie count certainly doesn't take into account an alcoholic beverage to wash it all down.
So, good news for all curry lovers – it turns out you can indeed chow down on your favourite Asian cuisine every day, so long as you steer clear of the carbs. But, really, isn't loading up on sides, creamy dips and bottles of Cobra half the fun?