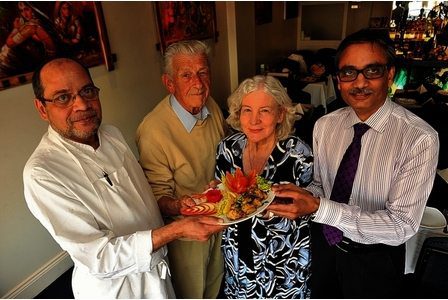 FREE CURRY AT THE KHYBER TANDOORI!
An elderly couple in Leicester who have dined in the same curry house three times a week for 28 years have now been told by the owner that they will never have to pay for another meal.
Over the years Bob and Margaret Allen have worked out that they have probably eaten more than 8,000 curries and 4,000 popadoms and naan breads since they first visited The Khyber Tandoori when it opened in 1984.
Khyber Tandoori co-owner Dinesh Raval has said that after spending more than £20,000 at his restaurant he won't charge the Allen's another penny.
The Allen's were the very first customers to enjoy a Curry at The Kyhber Tandoor in 1984 and despite living 25 miles away will continue to make the 50 mile round trip three times a week always sitting at the same table.
Bob comments,
"In 28 years I can honestly say I have never had a bad meal.The standard has never dropped, and we've never gotten bored. It's a real pleasure to go there. The curries are sensational. It's a wonderful offer by Dinesh, and we are very honoured. I thought he was joking at first. We will probably still try to pay, but I don't think he will let us."
Bob and the Khyber Tandoori Restaurant Leicester – we salute you!