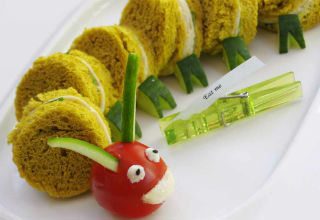 British children prefer mild foods don't they? Apparently not. A new study has found that 57% of British kids enjoy curry with a whopping 66% of under 3s eating the dish.
The survey, conducted by cheese brand MU and Mumsnet, found that children from the Midlands and the North-East are this generation's curry kids with 61% enjoying the spiciness. Children from the South-East appear to have a lesser taste for curry, but the number of curry-loving children is still above half, at 52%. A huge 75% of Scottish children have tried curry before the age of 3, so watch this space for the future of curry connoisseurs.
All these statistics are very nice but what do they mean?
Well hopefully it means that children are becoming more adventurous in the foods that they try. Children's food expert and chef Beverley Glock says "By encouraging children to try new flavours and spices from an early age, they will get used to eating the same food as adults. Parents can begin feeding their kids mild curries then increase the heat as they get older and begin to enjoy the flavours." Curry Culture's Toddler-Friendly Curry recipe may help you get started if you're looking to introduce curry to your children.
Talking about children who are sceptical of curry, Glock goes on to say, "If they dislike it the first time, parents should just show their children how much they're enjoying it themselves. Children pick up their love of food from their parents, so if they show they like something, their children are likely to enjoy it too."
So, not only does this mean that children are more adventurous in the food they're eating, it also suggests that it's good news for the curry industry with the potential for the population of curry-loving adults set to increase in years to come.
We're keen to know if this survey is really correct, are we set to see a boom in the curry industry over the next 10 years? How many of your children eat curry and how many of you remember eating curry as a young child? We'd love to hear from you. Send an e-mail about kids curry to info@curryculture.co.uk or leave us a comment below.