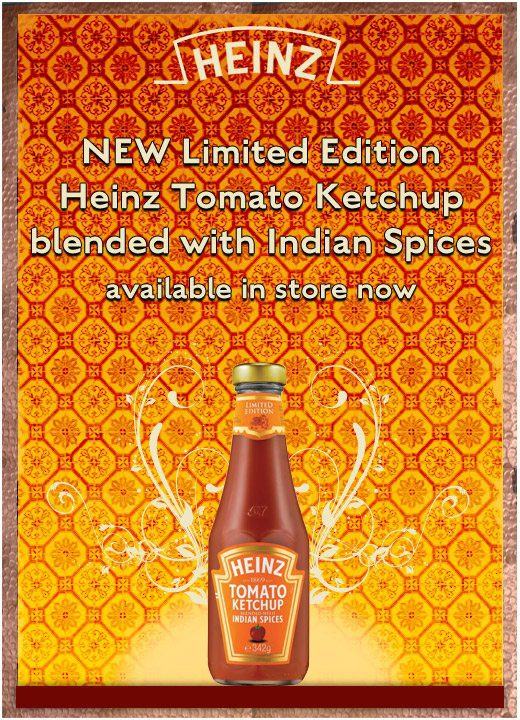 The world famous food company Heinz is updating their traditional Tomato Ketchup's image by launching a new limited edition, "Heinz Tomato Ketchup blended with Indian Spices".
Only available in the UK unlike the previous " Tomato Ketchup with Balsamic Vinegar" limited edition which was successfully launched in other countries, the new sauce contains a mix of cumin, coriander and cinnamon and has been created to accompany meat dishes or can simply be used as a regular dipping sauce.
The brand has always said that its products were made with "no artificial colours, flavours or preservatives" – even their green and purple ketchups?
The product has been available from 5th March in most supermarkets and people can give Heinz a call if they want to know where is the closest supermarket selling the new bottle (just imagine if everybody called Heinz to check).
As part of Heinz' marketing strategy, Heinz' Facebook fans were given the opportunity to win or buy one of the bottles through the facebook page from the 24th of February. The food company knows the power of social media and there is no need for them to advertise as Facebook gets the word out.
Even on their own website, people are redirected to Facebook to find out more. The only problem seems to be that, some of those who thought they would be the first ones to try the new Ketchup didn't receive their product on time. They are now complaining about the delay in the delivery of their bottles.
Only 1 million and 57 bottles of the limited edition sauce have been made and each of them has a gold label with an elephant motif.
People who have received their spicy ketchup or bought one from their local shop, seem happy with it. There is a lot of positive feedback from customers on Facebook.
So, although it may not be the most authentic sauce ever (let's be honest, it's ketchup!) we think it's worth giving a try.