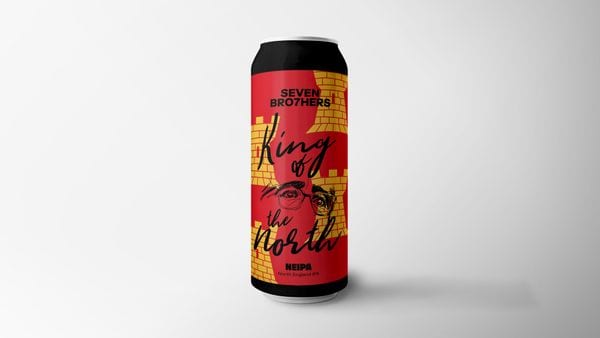 SEVEN BRO7HERS IPA Tips Hospitality's Most Vulnerable
In another totally non curry related story we were delighted to see one of our favourite breweries launch this initiative. As a Manchester based company, we want to do everything we can to help the hospitality sector in these hideously difficult times.
Here's their news story…
Tiers are flooding and the tips have dried up … enter the 'King of the North' to help pubs and bars!
Salford brewery SEVEN BRO7HERS Brewing co has teamed up with hospitality pals to create an Andy Burnham inspired IPA 'King of the North'.
Taking inspiration from the Mayor of Greater Manchester and his fight for funding across the region, the brothers have launched a limited-edition speciality beer to raise money to help those struggling in the hospitality sector.
This New England-style IPA is getting a North of England revamp. Packing a playful punch at 5% ABV, this beer full of hoppy personality with a helping of northern charm.
SEVEN BRO7HERS has teamed up with TiPJAR and businesses across the city of Manchester to raise funds for individuals who are most vulnerable at this difficult time. Warming your heart like chips and gravy, people will be able to scan a QR code on the back of the beer cans to give a 'tip'.
The beer will be sold online and can be pre-ordered for £4.00 through the SEVEN BRO7HERS web shop. It will also be sold in Manchester establishments, including BrewDog bars.
SEVEN BRO7HERS currently run two beer houses, Middlewood Locks and Ancoats, in Manchester and a bar on the outskirts of MediaCityUK from its Salford taproom. All three sites have seen footfall impacted by curfews and some closures due to Tier 3 restrictions.
Keith McAvoy, CEO of SEVEN BRO7HERS Brewing Co said: "We can't ignore the covid rates across our region but many businesses have been impacted by the constant rule changing and restrictions. Tier three has seen some establishments close, and they won't open their doors again.
"Mirroring the spirit of Andy Burnham sticking up for his region, we want to back our sector too and do something to help, that's why a percentage of sales from the 'King of the North' will be donated to hospitality charities."
He added: "We urge people to stay safe and to support your local hospitality businesses. Follow the rules, buy a beer and together we can help businesses to make it out the other side of tier 3 and curfews."
The brewery was founded in 2014 by McAvoy brothers, Guy, Keith, Luke, Daniel, Nathan, Kit, and Greg, inspired by their dad's home-brewing in their cellar at home.
King of the North will be brewed on November 4th and will be available in 440ml cans, 5% ABV. It is available for Pre-order on October 27th.
You can also support the sector via TiPJAR's emergency fund, this not-for-profit venture distributes your tips to carefully selected individuals: https://tip.wearetipjar.com/p/hw2.