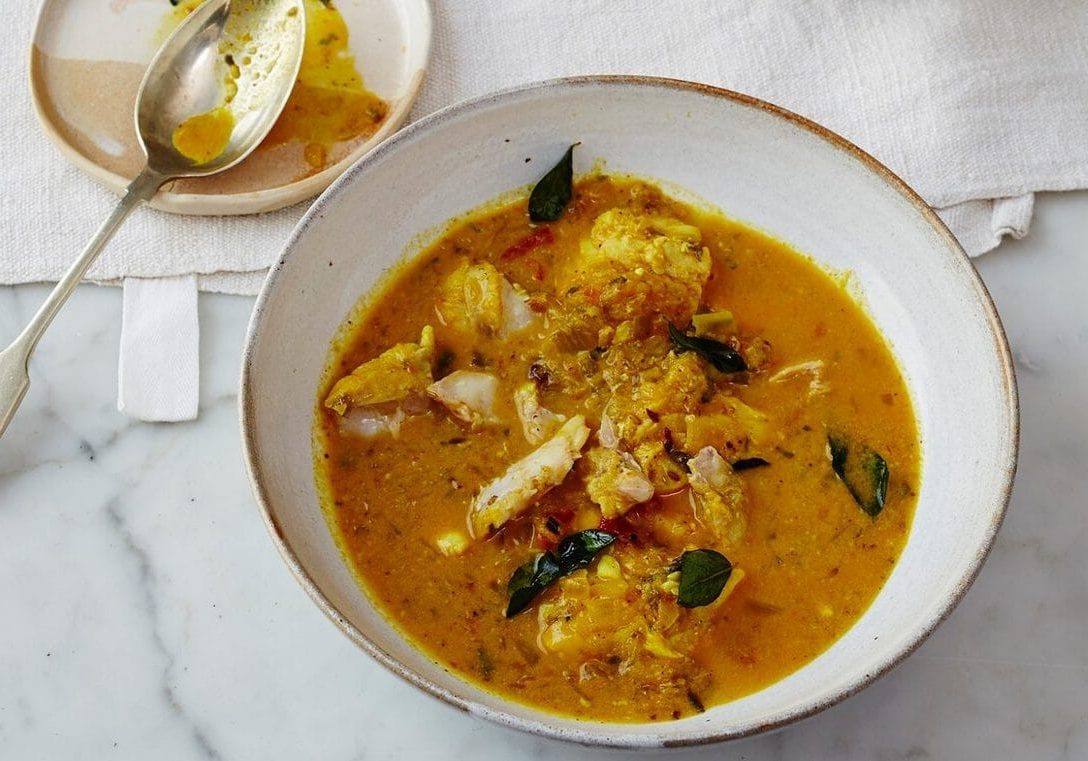 This delicious Goan fish curry recipe comes to us courtesy of guest chef Anjula Devi and is taken from her recipe book Spice for Life.
Anjula explains "this is one of the best fish curries which my Dad taught me to cook. It requires raw green mango which most Indian greengrocers sell."
Fish curries are not as widely eaten in the UK but they are well worth the effort. They are certainly jut as tasty as meat and vegetable dishes and generally have a more delicate spice level.
We have a profile of Anjula and more of her recipes in our Chaater and Curry Recipe sections so please take a look and have a go at cooking them.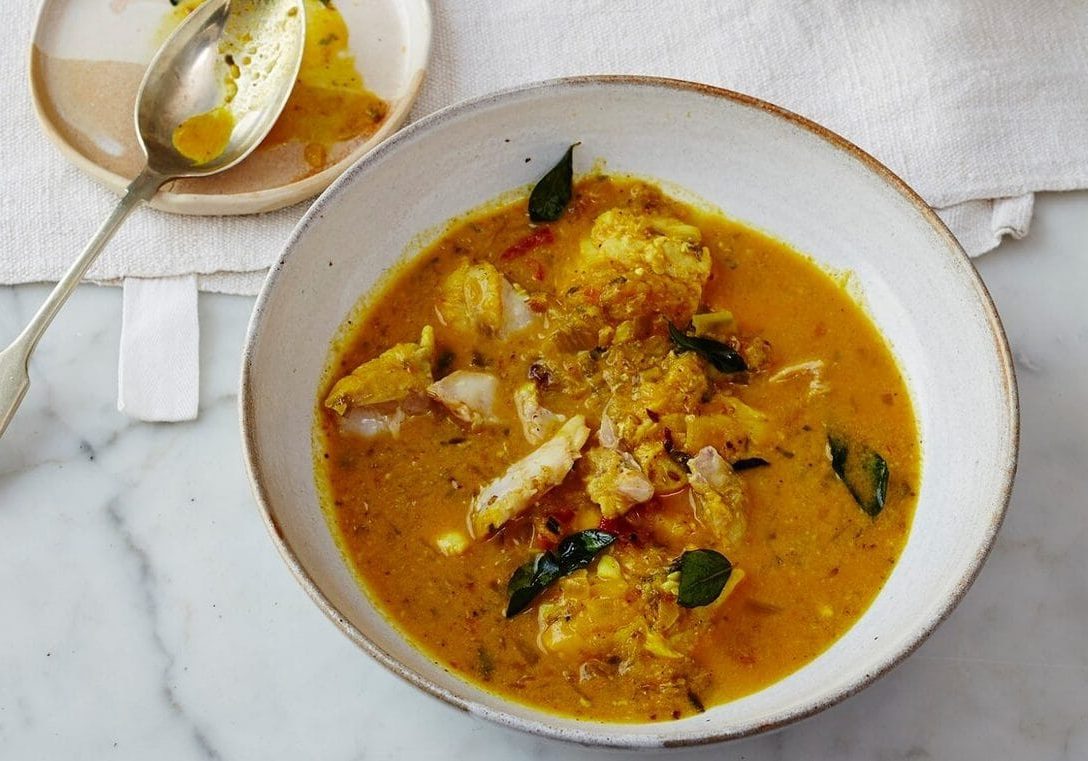 How to Make
Goan Fish Curry
Preparation Preparation time 20 minutes, cooking time 50 minutes30 minutes, marinate overnight. Cooking time 75 minutes.
Serves 4
Place a small dry frying pan on a low heat, allow to warm, add the cumin seeds, coriander seeds and mustard seeds, and warm for 1 minute.
Remove from the heat, add to a pestle and mortar, grind coarsely and set aside.
Place a sauté pan on a low heat, add the coconut oil and allow to warm, then add the curry leaves and allow to splutter a little.
Add the onions and sauté for 5 minutes, then add salt to taste and stir in the turmeric powder, whole Kashmiri chillies, white wine vinegar and jaggery. Continue to cook the onions until they are a light golden-brown colour.
Add the contents of the pestle and mortar, fresh tomatoes, garlic, ginger, green chillies, grated mango (or tamarind paste) and sundried tomato paste. Stir and continue to cook until you have something that resembles a paste. The pan should become quite dry and the moisture from the onions and tomatoes should have all absorbed.
Now you can stir in the coconut milk, water and the warming spices.
Bring the coconut milk to the boil, immediately reduce to a simmer and allow the coconut milk to thicken for about 8-10 minutes.
Add in the fish, coating it with the sauce and continue to simmer until the fish is cooked. This should take 6-7 minutes. Try not to stir the fish, rather gently shake the pan a little.
Check that the fish is cooked all the way through, remove from the heat, then add the chopped coriander and lime juice and zest.
Stir gently and serve with plain boiled rice.
Ingredients for
Goan Fish Curry
700 g firm white fish (I like to use haddock or hake)
Key Spices
1 tsp cumin seeds
1 tsp coriander seeds
1 tsp brown mustard seeds
1/4 tsp turmeric powder
1 tsp red chilli flakes
 Warming Spices
1 tsp fenugreek leaves, soaked in 2 tbs hot water
2 star anise
Other Spices
4-6 dry red whole Kashmiri chillies
Wet Ingredients
3 tbs coconut oil
2 small onions, finely chopped
1 tbs white wine vinegar
2 fresh ripe tomatoes, finely chopped
2 tsp pulped garlic
1 tsp pulped ginger
2 fresh green chillies, pierced
1 small raw green mango, grated (if you struggle to buy these, use 2 tbs tamarind paste)
2 tsp sundried tomato paste
400 ml coconut milk
100 ml water
8-10 curry leaves, ripped
Sea salt to taste
1 tbs grated jaggery
Garnish
Small bunch of fresh coriander, chopped
Zest of one lemon
Links to other recipes and useful information about this recipe:
This recipe has been reproduced courtesy of Anjula Devi and comes from her recipe book Spice for Life. You can find out more about Anjula and her recipe books by visiting her website  or following her on Instagram