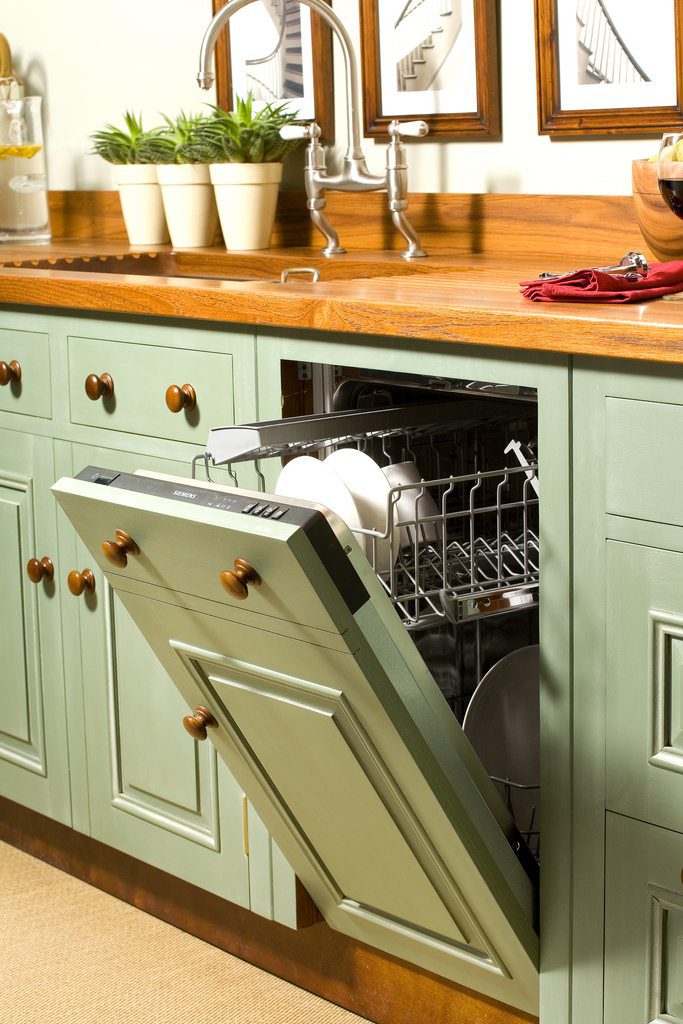 If your oven broke down just when you intended to cook chicken, no worries, just put it in the dishwasher! That's what award-winning chef Stephen Gomes did.
After the Food Standards Agency alert a couple weeks ago warning that washing raw chicken may cause food poisoning, Chef Gomes decided to fight fire with fire by cooking chicken breasts in the dishwasher, along with the dirty dishes, killing two birds with one stone (pun intended).
Stephen Gomes, otherwise known as Heston Blumen-'dhal', is chef at Moksh, a Cardiff Bay restaurant which specialises in Indian cuisine with a technological twist. From the appliance of science in the kitchen to using a kitchen appliance to cook chicken, there's only a short step but the chef is used to creating unusual dishes, like chocolate orange chicken tikka.
According to Chef Gomes: "This is the cleanest way to eat chicken without any hygiene risk at all. You cook it in the dishwasher while you are doing your dishes, on the highest temperature programme. If this can remove the curry stains from my curry bowls then it can take care of any bacteria, and it's healthy, this isn't low fat, it's no fat. I haven't needed to use a spoonful of olive oil and it's tasty, steamy, succulent and cooked to perfection."
Obviously, there is a little more to this dish than throwing chicken in the dishwasher and pressing the on button. First the chicken breasts are trimmed and cut to shape, smothered in garlic and ginger paste, cumin, pink peppers, chilli powder, salt and lemon juice. Then the breasts are wrapped in about 2ft of cooking foil.
"The chicken has to be properly wrapped and sealed into the foil. Make sure there are no holes and it's airtight – you want the chicken to be succulent not soapy."
Along with those wise words, chef Gomes also recommends letting the chicken marinate in the fridge for about 24 hours before dishwash-cooking it, then putting it on a 10 minute cycle on the hottest programme.
He added: "This is ideal for when you are at home and too lazy to cook. It is so healthy and it can be eaten with all sorts of salads. You can stuff it in a wrap or put it in pitta bread and it's delicious. The best thing about this recipe is that you can cook your dinner while you are doing the dishes."
Here's Stephen Gomes' instructions on how to cook 'dishwasher chicken'
Place a 450 gram chicken breast in a large folded 2ft section of baking foil.
Trim off all fat, cut the edges to equalise the shape and make small incisions in the meat.
Smother both sides in a garlic paste already liberally mixed with chopped ginger.
Add one teaspoon of pink pepper corn.
Add half a teaspoon of chilli pepper – "the mother of all spices."
Add one teaspoon of ground cumin.
Add one teaspoon of salt.
Pour on a liberal amount of lemon juice.
Wrap the chicken tightly making sure the foil is airtight and has no holes.
Leave to marinate in the fridge, ideally for 24 hours.
Place in a dishwasher on the hottest cycle for 10 minutes when you do the dishes.
Serve in pitta bread, in a wrap, with a nan or any of a variety of summer salad.
We're not sure we would recommend this cooking method but why not try it once for the sake of it, what could possibly go wrong? Everything obviously, SO JUST STICK TO THE OVEN!