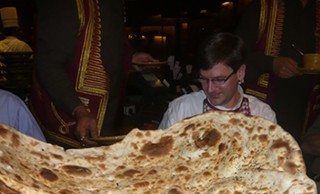 Have you ever seen a bigger Naan bread in your life? No, neither have we.
This tremendous Naan bread photo was taken at the New Delhi-based restaurant, Bukhara at the ITC Maurya holel.
At Bukhara restaurant, dishes from the North-West of India are cooked in clay ovens (tandoor) in the traditional style. Looks like they are keen on Naan Bread too, don't you think?
If you find a Naan bread as or more enormous than this one, we want photographic proof !
Send it to us at editor@curryculture.co.uk and tell us where, when and WHY?