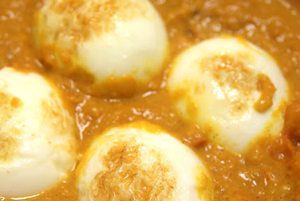 Our guest blogger today is "Cooking with Siri"…
"It may be hard for an egg to turn into a bird: it would be a jolly sight harder for it to learn to fly while remaining an egg. We are like eggs at present. And you cannot go on indefinitely being just an ordinary, decent egg. We must be hatched or go bad."
~ C.S. Lewis, British scholar, novelist (1898 – 1963)
The above quote is talking of Life being an egg but this post is all about the *real eggs*. Most of my buddies already know my love for eggs. In fact, they know me so well, every time they make an omelet, they think of me. Ask her, if you think I am exaggerating 🙂
Born in a Brahmin family, eggs were totally forbidden in my household. That was the story until 3 or 4 years old. When I was little, once (as my mommy says) I had a very high fever and with a bad immune system, that is when our family doctor recommended eggs to my diet. Since, then I am just hooked.
Below are my top 5 reasons for my never-ending-love towards "EGGS" –
Note: The eggs I use are always organic free-range eggs with no hormones or antibiotics. 
Reason No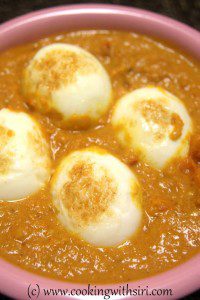 . 1 – Eggs are versatile and quick to cook (read as lazy); from a simple Denver Omelet to Egg Puffs to delectable Nargisi Kofte , they are the best. Period.
Reason No. 2 – Eggs are one of the only foods that contain naturally occurring Vitamin D. Yes, that is true and they are a good source of healthy fat. One egg has 13 essential vitamins and minerals in varying amounts and they only have 70 calories.
Reason No. 3 – Busting the popular myth, the Harvard School of Public Health research proves that there is no significant link between eggs and heart disease. Moreover, Robert Nicolosi, Ph.D., one of the study's authors and director of the Center for Health & Disease Prevention at the University of Massachusetts, Lowell says, "Our data show that eating an egg a day isn't a factor for raising cholesterol".
Reason No. 4 – Eggs are available all year round and are economical. For almost just 10-15 cents each, they are easy to get from any marketplace.
Reason No. 5 – Everyday breakfast with eggs promotes weight loss and they protect our eyesight (according to 2 new studies published in the Journal of Nutrition) without increasing cholesterol.
Do you need any more reasons for including this extremely nutritious and yummy food in your daily meal plans? Start with today's recipe, "Spicy Egg Masala".
Spicy Egg Masala Recipe
Ingredients –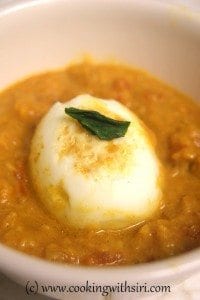 4 boiled eggs, shelled
1 medium onion, chopped
2 tomatoes, roughly chopped
2-3 green chillies, finely chopped
1 tsp finely chopped fresh ginger
2 tbsp of gram flour/chickpea flour/besan
1 tsp of ghee + 1 tsp of canola oil
1/2 tsp tamarind pulp
1/2 cup of milk
salt to taste
1 cup warm water
dry spices – 1/4 tsp of turmeric, 1/2 tsp of garam masala and 1 tsp of each: red chilli powder, coriander-cumin powder
Preparation –
1. Blend onion, green chilli,ginger and tamarind with little water into a thick paste.
2. Heat ghee and oil mix in a pan and add the onion paste and saute it till golden brown on medium heat. This will take a little while, around 5-6 mins, so be a little patient 🙂
3. Add the gram flour and saute for a minute. Then add all the dry spices and saute again for another minute. Sprinkle 1/4 cup of water.
4. Add the tomatoes and saute until the oil separates from the tomatoes.
5. Add the milk, 1/2 cup of warm water and cook over low heat for 7-8 minutes or until the sauce reaches the required thick consistency.
Note: Heat 1/4 tsp of oil in a separate pan and drop the boiled eggs for a golden brownish char on them. This is totally optional.
6. Add eggs, cook for 2 more minutes. Serve with any plain rice, biryani or roti.
Article recreated with kind permission of www.cookingwithsiri.com, please visit her blog to read more.