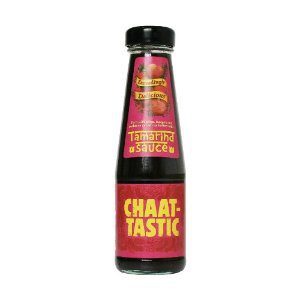 A few weeks ago we received a product to review – "Chaat-tastic Tamarind Sauce". We gave it a go and here is what we thought.
The story of  Chaat-tastic is that of a family – the recipe goes back over a century in the Shabi family history where it has been passed down faithfully over the years.
Where's the name from?
Chaat-tastic is obviously a pun – Chaat meaning "taste" in Hindu and "tastic" standing for "fantastic". So, hopefully, this is a fantastic Tamarind sauce to use with chaats.
So how's it different?
Unusually this product has been created to satisfy "Western" taste buds as their goal is to "broaden the use of Tamarind sauce beyond its traditional Asian base and make a crossover into the mainstream".
The sauce is said to be "versatile" meaning it should go well with many dishes – BBQ, meat, burgers and some people even suggested with yoghurt and ice cream.
Well, we are not convinced by the latter suggestion because non-Asian communities aren't used to Tamarind sauce on anything – so if their first try is on ice cream it may well be their last.
Our opinion
This sauce is convenient for all types of cooking and actually tastes good. However, we have some reservations, it is a bit too tangy for our taste but we think it could be successful in the non-Asian community as it's not too hot and goes well with Asian as well as with Western dishes.  And last but not least, it is reasonably priced.
 Our advice
Give it a try if you're looking for something different on your next BBQ.