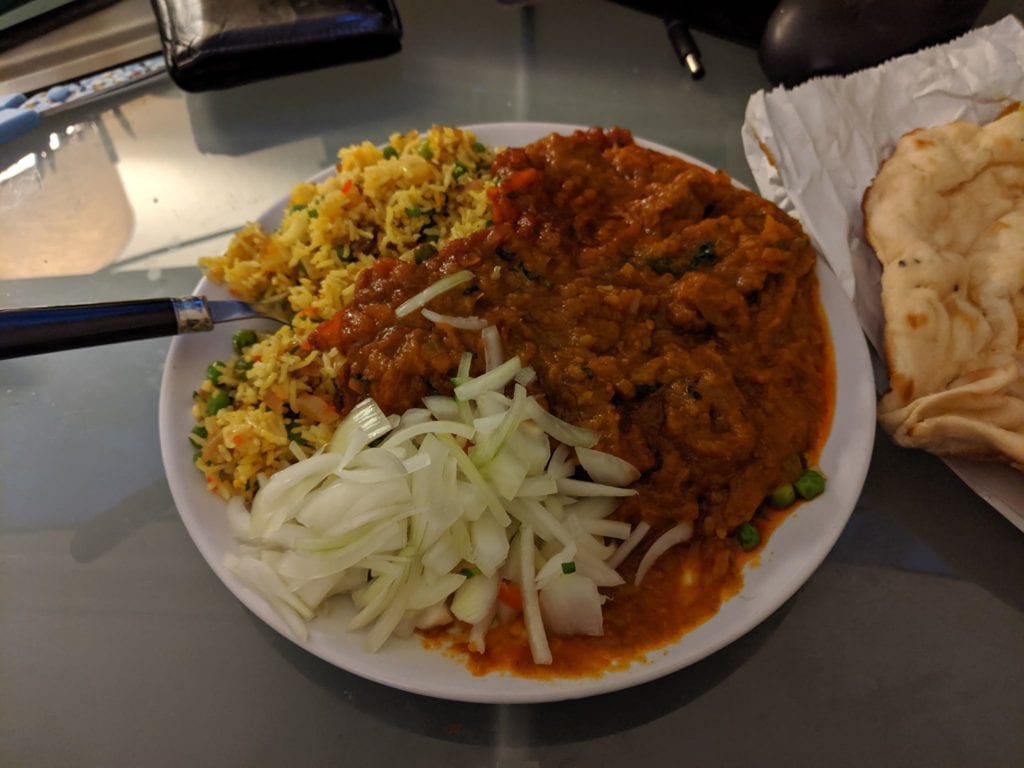 Rogan Josh may not sit with Kormas and Masalas in the top tier of British curries, but it surely comes in on the second rung.
It's a mildly spicey curry which combines a smokey and sweet taste that usually has tomatoes, that's about it, deviation isn't really necessary. Yet Wilesden's Bombay Kitchen in north west London took a very different approach.
This isn't to say it was bad, it just wasn't what I ordered. The curry I got was all smoke, nothing else, the smokey flavour was so intense it reminded me of barbeque sauce rather than a mild curry, and there were no chunks of juicy tomato either.
The Kitchen's unconventional interpretations of Indian cuisine carried on with the rice. I order peas pilau rice, I expected a flavourful cumin/turmeric spice rice, with peas. What I got was something more akin to in flavour to Chinese vegetable fried rice, with onions, peas and peppers.
With my order also came half a sliced white onion, for some reason. Considering the rice and curry both had plenty of onions in, this free side didn't add anything to the dish, it was just an onion.
One definite plus to the Bombay Kitchen was the lamb was top quality. It's always a fear when ordering from a new takeaway if the lamb will be any good, or if it is even lamb at all. But with this one, I was in good hands, the meat was both tender and flavourful and definitely lamb!
Again, it wasn't bad, just different. Fortunately, when I tucked into my Chinese/bbq/curry dinner, the £2 plain naan was just a £2 plain naan, it did the job.
Overall, for £12.95 – cheap for London – it was a good meal, it filled me up, and it was quite nice, but I don't think this curry house will become my regular Friday night takeaway choice.