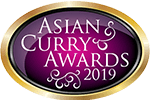 [et_pb_section fb_built="1″ admin_label="section" _builder_version="3.22″][et_pb_row admin_label="row" _builder_version="3.25″ background_size="initial" background_position="top_left" background_repeat="repeat"][et_pb_column type="4_4″ _builder_version="3.25″ custom_padding="|||" custom_padding__hover="|||"][et_pb_text admin_label="Text" _builder_version="4.3.4″ background_size="initial" background_position="top_left" background_repeat="repeat" hover_enabled="0″]
The eagerly-awaited shortlist for this year's Asian Curry Awards has been announced ahead of National Curry Week (7th to 13th October).  Top London fine dining London venues listed include: Benares, Darjeeling Express, Hakkasan, Indian Accent, Quilion, Veersawamy and Zuma
The winners will be revealed at a glittering awards-ceremony, at Grosvenor House, in Mayfair on Sunday 17th November,
The full shortlist, which was determined by more than 100,000 votes from the curry loving public, can be seen at www.asiancurryawards.com
A team of judges led by Pat Chapman, the editor and founder of the Cobra Good Curry Guide is now touring the country visiting shortlisted restaurants. 
Awards will be presented for:
Best Asian Restaurant
Healthy Eating Restaurant
Asian Restaurant Chain
Best Event Caterer
Best Newcomer
Fine Dining Restaurant
Casual Dining Restaurant
Best Buffet Restaurant
Just Eat Best Takeaway / Delivery
Maitre D'
Asian Hospitality Entrepreneur
Pan-Asian Restaurant
Lifetime Achievement
Best Vegetarian / Vegan Restaurant
Best International Restaurant  There are also awards for individual Asian cuisines and regional winners. The Asian Curry Awards are organised by the Asian Catering Federation, which represents the nation's 30,000 Asian and Oriental restaurants and takeaways. These are the only awards open to all cuisines from the entire Asian Continent stretching from Istanbul to Tokyo.
"The demand for delicious, spicy food has never been greater – but competition is fierce and the industry faces many challenges, not the least of which is the uncertainty surrounding restaurateurs' ability recruit oversea worker post-Brexit," said Asian Curry Awards chairman, Yawar Khan. "These awards are designed to encourage our young people to embark on a career into the restaurant industry and recognise the efforts, creativity and skill of the pioneers who our driving standards ever higher."
Such is public interest in the recognition of the best restaurants, it is not unknown for winners to double weekly profits as new customers seek out the victors.
To celebrate National Curry Week sponsored by Kingfisher Beer the ACF recommends that spice lovers visit Asian Curry  Awards shortlisted restaurants, many of whom have special charity fundraising promotions, which are being promoted via the www.nationalcurryweek.co.uk and www.curryforchange.co.uk websites.
[/et_pb_text][/et_pb_column][/et_pb_row][/et_pb_section]