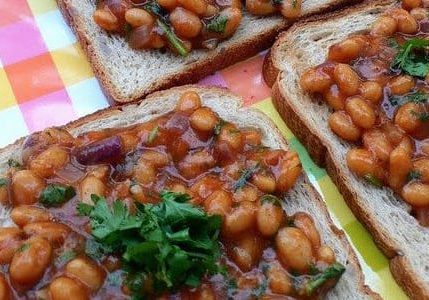 An ode to the Brits from our guest blogger "The Mistress of Spices"
I have always been a HUGE fan of traditional English breakfasts, ever since enjoying them in the various parts of Anglophone Africa in which I've worked. A weekend in London wouldn't be complete without at least one. Fried or scrambled eggs, grilled tomatoes and mushrooms and of course beans on toast (my favorite!), talk about a great (albeit not so healthy) way to start the day!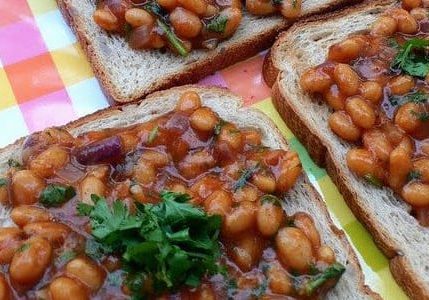 How to Make
Beans on toast, Indian style!
Many people are disgusted by the idea of beans and other savory foods for breakfast, but not me! Part of my affinity must stem from the fact Indians traditionally eat very filling and savory meals to start the day, rather than just a little coffee and croissant or a bowl of cereal. The upma that I posted yesterday is the perfect example.
In honor of the Brits, the fabulous English breakfast, I decided to make my beloved but admittedly humble and commoner beans on toast…though of course with an Indian twist! Baked beans are hard to come by here in Paris (outside of British, and not surprisingly, Indian supermarkets), but I scored a couple of cans here at the UNESCO commisary, which stocks a random assortment of "foreign" foodstuffs.
Sauteed with some onion, ginger and garlic and seasoned with cumin, coriander and chili powders and a bit of garam masala, these were the tastiest baked beans that I've ever had and were such a snap to make! Even Luis, who claimed that he would not eat baked beans, enjoyed them. Served with some toast and ideally eggs and the other English breakfast goodies, this is the perfect breakfast to enjoy.
Beans on toast Indian style
Serves 2
1. Heat oil in a small saucepan over a medium flame. Once it is warm, add the cumin seeds.
2. Once the seeds start popping, add the onion, garlic and ginger. Stir well and saute.
3. As the onions become translucent, add the can of beans (undrained).
4. Add the cumin, coriander and chili powders and the garam masala. Stir, reduce heat to low and cook until warmed through (about 5 minutes).
5. Remove from heat and stir in coriander.
6. Toast your bread and serve with the beans and additional coriander as garnish, if desired.
Ingredients for
Beans on toast, Indian style!
1 x tablespoon olive oil
1 x teaspoon cumin seeds
1/2 x large onion, chopped
2 x cloves garlic, minced
1 x teaspoon grated ginger
1 x can (415 grams or 14.5 ounces) baked beans
1/2 x teaspoon cumin powder
1/2 x teaspoon coriander powder
1/2 x teaspoon (or to taste) chili powder
1/4 x teaspoon garam masala
2 x tablespoons fresh coriander, chopped
4 x slices bread of your choice
Links to other recipes and useful information about this recipe:
Article recreated with kind permission of www.mistress-of-spices.com
Please visit her blog to read more.