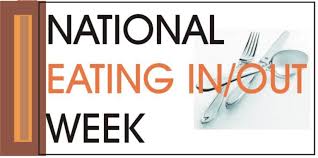 The 4th National Eating In/Out Week will take place next Monday 18th November and will end on Sunday 24th. We are already looking forward to it!
This annual event, celebrates the fantastic diversity of cuisines available to diners in Britain and operates in tandem with National Curry Week, raising funds for The Curry Tree Charitable Fund to fight against hunger and poverty.
This year they are celebrating the 'homage' to the British Dishes of Foreign Origin (BDFOs). Those international dishes that Brits enjoy the most and we have even adapted to become our own specialities.
Peter Grove and The Federation of Specialist Restaurants , organisers of this exciting event, have set up a schedule, dedicating a day to each of our favourite cuisines and this is the result:
18th November: In praise of Spanish/Mexican Cuisine

19th November: In praise of Caribbean/Cajun Cuisine

20th November: In praise of Thai/Malaysian Cuisine

21st November: In praise of Japanese/Viet/Korean Cuisine

22nd November: In praise of Chinese Cuisine

23rd November: In praise of Italian Cuisine
What do you think, feeling exciting? Can you think of any other country specialities? If you do, let us know on our Facebook page . You never know, maybe they will be accepted and added to the next National Eating In/Out Week.
Are you ready to enjoy the great variety of dishes offered during this week? Whether you prefer to enjoy your meal in a restaurant or taking it away we hope you are willing to help raising some good money for the cause.
We wish you, fans of International cuisine, a tasty week!