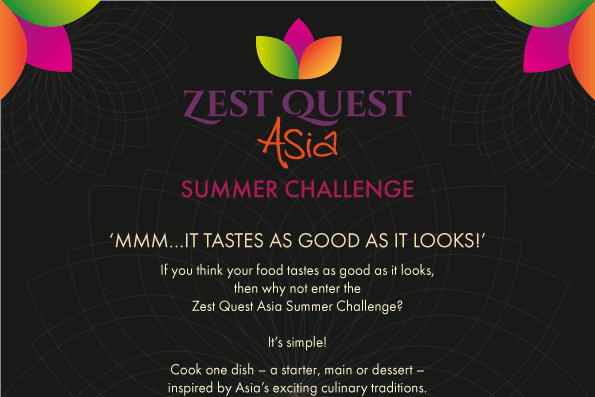 Restaurateurs CyrusTodiwala OBE DL and Pervin Todiwala have announced the launch of the first Zest Quest Asia Summer Challenge, an exciting on-line spin-off of the popular annual student culinary competition, Zest Quest Asia.
The Zest Quest Asia Summer Challenge is likewise geared towards raising the profile, skills and knowledge of Asian cuisine among student chefs in Britain and is open to individuals working on their own, with or without the help of their tutor.
From Friday, 12th June, UK-based full-time students aged 16-21 who wish to take part can post a photo of themselves with the Asian-inspired dish they created on Facebook or Instagram, along with the name of their college or university, a description of the recipe and a brief history of why they chose the dish as well as any pitfalls they experienced along the way. They should then tag @ZestQuestAsia and use the hashtag #ZestQuestAsiaSummerChallenge when posting their dishes and explanation on social media.
The winners will be picked by Cyrus and Pervin as well as Murray Chapman, the chef founder of Passion to Inspire. All entries should be posted on Zest Quest Asia's Instagram by 30th July 2020. First prize is a meal for four (including the winner's tutor, if any) prepared by Cyrus, whose restaurants include Café Spice Namaste, Mr Todiwala's Kitchen at the Hilton London Heathrow T5, Mr Todiwala's Kitchen at the Lincoln Plaza in Canary Wharf and Mr Todiwala's Petiscos in Buckhurst Hill. The second prize will be a package of Mr Todiwala's products and two other entries will be selected to win a signed copy of one of Cyrus' cookbooks. Following the announcements, the winning recipe descriptions and accompanying photos will be posted on Zest Quest Asia's social media channels.
Cyrus said, 'The Zest Quest Asia Summer Challenge is an invitation to students to devote a bit of their time, curiosity and imagination to come up with an interesting and delicious Asian dish. The coronavirus may have shaken our world, but what hasn't altered is our resilient and creative spirit.
'Many of us chefs and those who love cooking have used our time during lockdown to rediscover the joys of cooking at home. I hope as many as students as possible will see this as an ideal period to learn and create new recipes and dishes inspired by the tastes and flavours of Asia.'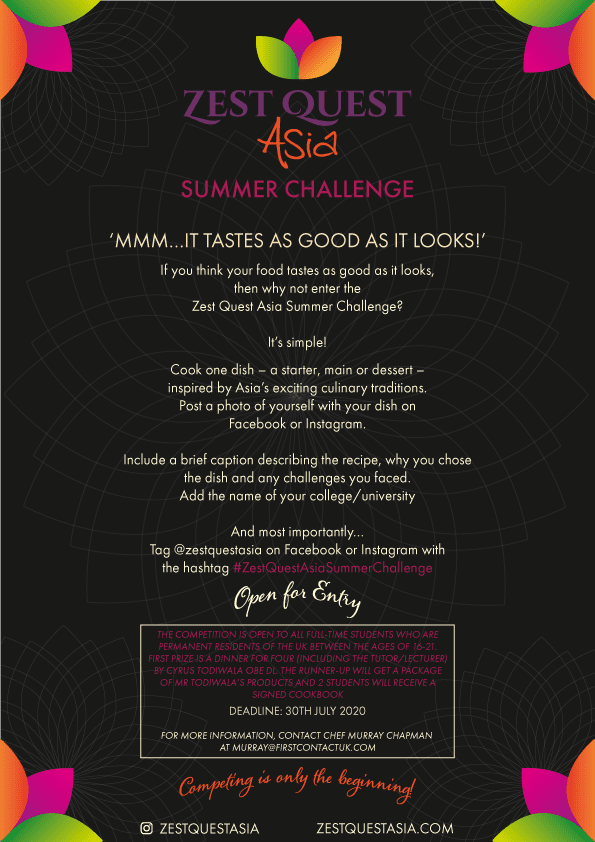 Pervin Todiwala, said, 'Cyrus and I didn't want Zest Quest Asia to lose its momentum during this difficult moment in our industry's history, so we approached Murray Chapman, one of our competition's fantastic judges, who organised our Zest Quest Asia Upskill Day last November. It didn't take long for the three of us to come up with the idea of a simple, on-line competition that would give students and pupils something to aspire to using pots and pans during lockdown.'
Murray Chapman, Director of First Contact Chefs and founder of Passion to Inspire, a non-profit making, voluntary initiative bringing education and industry closer together, added, 'Zest Quest Asia has accomplished so much for Asian cuisine among the younger generation, and opened eyes to new cultures and traditions through food. It's the most prestigious student competition of its kind in the UK today. The Zest Quest Asia Summer Challenge is another opportunity for students to show off their skills in Asian cuisine.'
For more information on the Zest Quest Asia Summer Challenge, contact Murray Chapman at murray@firstcontactuk.com.