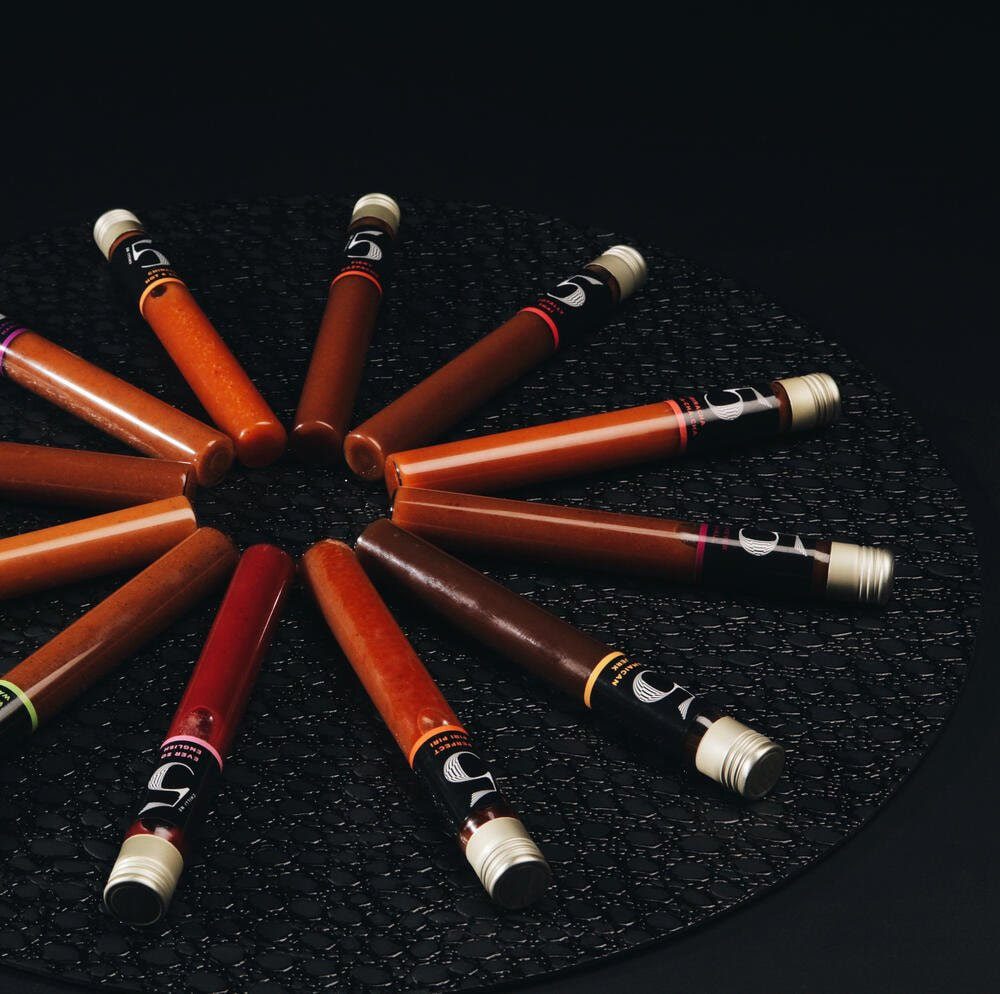 Another Christmas gift idea has been sent to us and one that will appeal to the Vegan curry lovers in your friends and family. Chilli No 5 describe this as "A revolutionary line of gourmet chilli sauces packed with superfoods". The range launched on October 31st and "is offering food lovers a luxurious and healthy alternative to traditional hot sauces."
We've not tried any of them so can't vouch for how they taste but it certainly sounds like an interesting choice of gift and gives you a wide selection of flavours. They also claim to be sustainable with recyclable and/or reusable packaging and refill pouches for those who would like to re-order.
Their range offers a number of designer chilli sauces, each one inspired by cuisines from across the globe. Iconic sauces, such as harissa, jerk, wasabi,  peri peri and sriracha have been reinterpreted for the modern hot sauce lover, who demands not only a great tasting sauce, but one that is healthy  and made with only the very finest chillies and antioxidant ingredients, known for their health-giving properties.
Each gourmet sauce includes an exclusive blend of five types of chillies, including the chilli n° 5, which are known for their healthy benefits as well as at least 5 superfoods and health supplements. As well as antioxidant ingredients such as black garlic, fresh ginger, nutmeg and apple cider vinegar, the sauces also contain powerful health-boosting supplements including inulin, maca powder, red ginseng, L-Arginine, guarana, and fenugreek. These superfoods are known to help with sleep deprivation, libido, concentration, weight loss, and anxiety.  
Made using only the very finest chillies sourced from across the globe, each Chilli No. 5 hot sauce is vegan and free from any artificial colourings and flavourings.
If you would like to find out some more about the sauces, you can visit their website at https://chilli-no5.com/