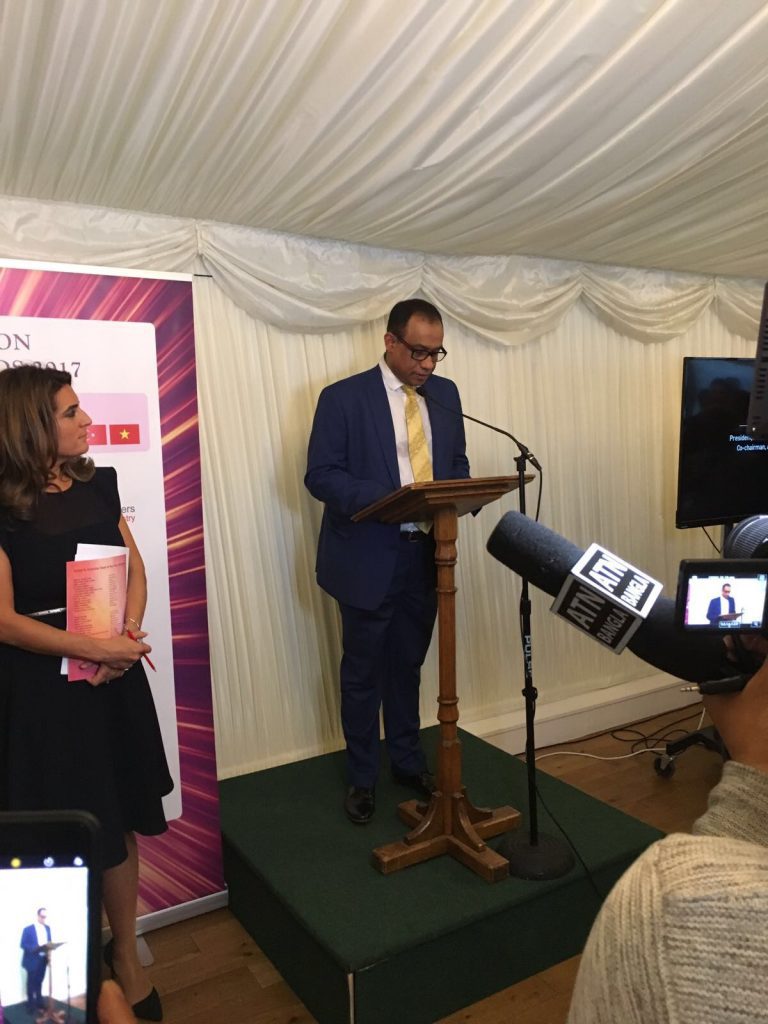 The nation's favourite Asian and Oriental chefs, as determined by popular public vote, have been announced by the Asian Catering Federation [ACF].
The top thirty were invited to a special presentation ceremony being held in the Terrace Pavilion of the House of Commons on Monday 15th May 2017. The event was also used to launch the Asian Curry Awards 2017, organised by the ACF being presented on at a glittering ceremony on Sunday 12th November, where the top chefs and restaurants will be revealed.
The top thirty chefs have been named as: Luthfur Ahmed, Bengal Brasserie, Belfast;   Rafique Ali, Bokhara Bangor, Belfast; Harneet Baweja,  Gunpowder, London; Vineet Bhatia, Vineet Bhatia, London; Ahad Nur, Millennium Balti, Leamington Spa; Sham Alom, Rumi's, Beverley; Dev Banda, Everest Inn, Grantham; Rik Campbell, Kricket, London; Stephen Gomes, Moksh, Cardiff; Imran Hussain, Shapla, Donegal;Atul Kochhar, Benares, London; Shah Faysol Miah, Bangla Bangor; Abdul Majid; Palash Mitra, Gymkhana, London; Abul Monsur, Taj Cuisine, Chatham; Jiwan Lal, Babur, London; Shanker Pandey, Everest Inn, Ashford, Kent; Rafaqat Saleem,   Royal Nawaab, Manchester;  Karam Sethi, Hoppers, London; Kaori Simpson, Harajuku  Kitchen, Edinburgh; Muhammad Shoaib, Royal Nawaab, London;   Abdul Sobur, Zafran, Southend;   Alun Sperring, Chilli Pickle, Brighton;  Sameer Taneja, Talli Joe, London; Cyrus Todiwala, Café Spice Namaste, London; Jeff Tyler, Novikov, London; Yoong Cheong Wong, Rasa Sayang, London; Abdul Kadir, Grand Sultan, Port Talbot; Chad Rahman, Chez Mumtaj, St Albans; and Mahamud Zaman,  Zaman International Cuisine, London;
A panel of judges led by the Cobra Good Curry Guide will now visit these venues. Two overall winners (one casual, one fine, dining) will be announced at the November ceremony, all with a host of other national and regional awards. The full list of categories can be seen, and online nominations made at www.asiancurryawards.com.
These events are part of the ACFs continuing programme of events, designed to support the nation's 35,000 Asian and Oriental restaurants and takeaways. The workshops and awards show restaurateurs and chefs how to respond to changing customer demands.
Although the ACF lobbies Government about tackling skills shortages, high business rates and VAT, Khan says, "It's time to stop blaming the Government, raise our game and to take responsibility for the survival of our own businesses."
"For years we have been telling restaurants they need to embrace changing customer demands, offer lighter, healthier options with shorter menus with more fish and vegetable dishes, serving genuinely authentic regional food.
The 7th Asian Curry Awards will take place at the Grosvenor House Hotel in Mayfair on Sunday 12th November 2017.
For more details please visit asiancurryawards.com