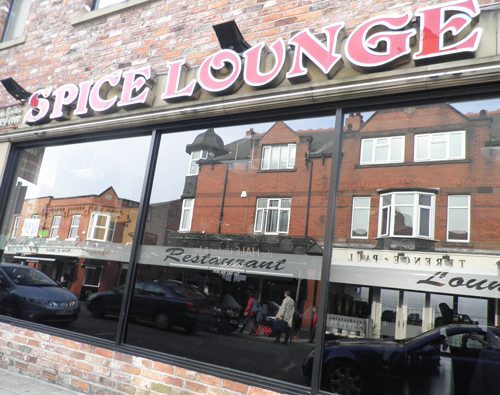 Hale is a food-lovers' fantasy factory and its numerous high-quality restaurants attract more than a fair share of premier league footballers as well as an endless stream of leggy blonde ladies in white 4x4s.
So Spice Lounge has considerable competition in the feed-me stakes. A pal and I, along with his 13-year-old son, decided to check it out one midweek night…
Here's our 60 second guide to Spice Lounge
Ambience 8/10 – the 74-seat ground floor restaurant is understated and very un-Indian, with stylish high back chairs and quality tablecloths. Lighting is soothing and there's a bustling, energetic vibe to the room.
Service 8/10 – Service in Indian restaurants is usually either surly or gushy, but these guys have got it just right. The smiles are genuine, there's a ready willingness to explain unfamiliar dishes on the menu and, most importantly, they deliver drinks orders promptly! The ratio of waiters to diners is spot on and there's always someone on hand when you need them.
Food 8/10 – The menu is a mix of the usual Indian restaurant suspects and some innovative dishes created by the Spice Lounge chef brigade. The quality is of a very decent standard (hence the place being full on a Wednesday night) but it's the size of the portions that stands out – we are talking big here, guys. The mixed tandoori at around eight quid is great value and top notch tasting.
Overall – Spice Lounge describes itself as a 'contemporary' Indian restaurant, a phrase that makes me judder. Really, it's a modern-day take on the classic of the genre: a good, almost homely, place that delivers decent quality, reliably consistent food in a pleasant atmosphere. You leave full, but your wallet isn't empty. Our bill for two starters, three mains and some drinks came in comfortably under £60 – which for Hale is something of a miracle. They also offer a takeaway service.
For more information on the Spice Lounge visit their website