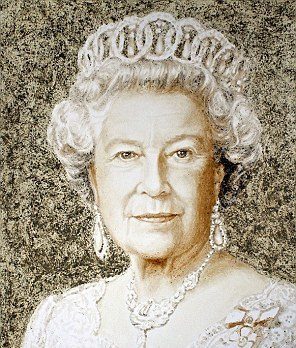 This weekend thousands of people across the country will be holding street parties or attending public events to celebrate the Queen's Diamond Jubilee. An American artist has paid homage to Her Majesty's longevity by painting her but with a twist.
Karen Eland's painting of the Queen, was not done with the usual oil paints, but with nothing but CURRY AND BEER! She discovered her talent for using such unusual tools after she painted using coffee, but then was keen to explore something unique.
Using curry spices to get her quirky finish, she has painted other celebrities such as Kate Middleton, David Beckham and Jessie J.
The thirty eight year old says she layers beer and curry "paint" to create darker and lighter shades and outline famous faces.
She comments, "Painting with beer is quite simple, and very similar to coffee painting. I pour out some beer and just start dipping my brush and painting."