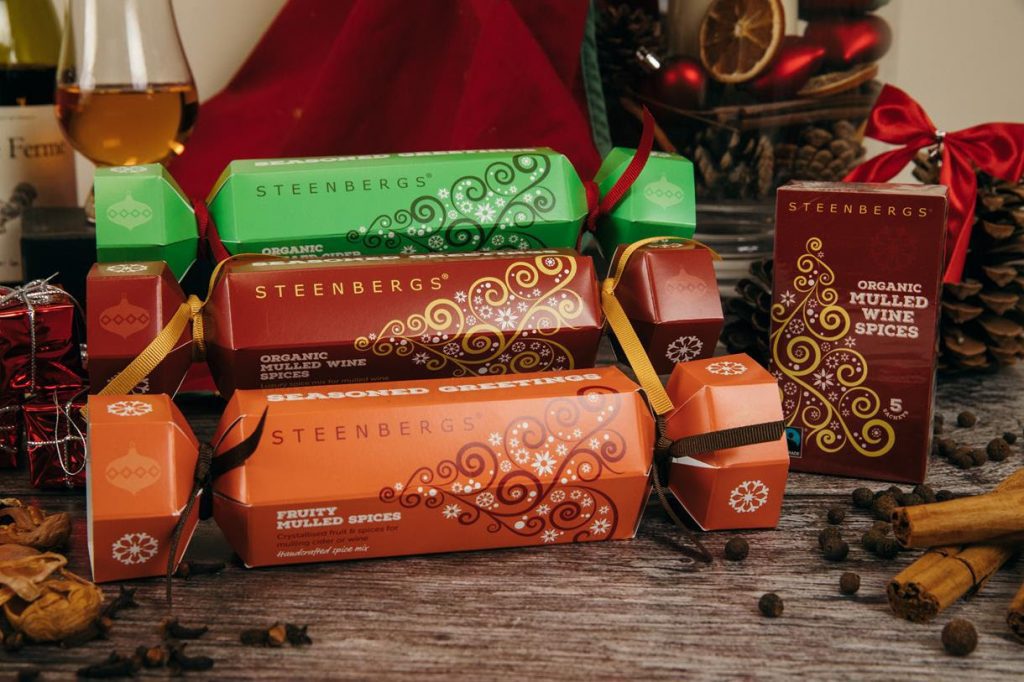 If you are looking for something a little different as a stocking filler these maybe worth trying. I've not tested them, or even seen them, I just got their press release and thought it was worth repeating, I leave it to you to discover if they're any good (or not):
Their Press Release:
This Christmas Steenbergs is delighted to announce their new range of hand-blended Old Hamlet mulling spices, presented in traditional cloth bags which are hand sewn in the UK. Dating back to Medieval times, mulled wine has been enjoyed as an aromatic warming drink during winter months, especially at Christmas and Steenbergs is keen to carry on the traditions but with bright, bold packaging and fabulous festive flavours.
New Christmas Products
1. Steenbergs Festive Organic Christmas Crackers – a great stocking filler or festive gift, these brand new crackers are filled with aromatic organic mulling spices to make your own delicious festive tipple.
• Mulled Wine Spices £3.50 each; red cracker containing 3 muslin pouchettes, enough for 3 bottles of wine
• Mulled Cider Spices £3.50 each; green cracker containing 3 muslin pouchettes, enough for 6 litres of cider or apple juice
• Fruity Mulled Spices £2.75 each; orange cracker containing a pouch of loose spice mix
2. Old Hamlet Tartan Bags of Fairtrade Mulling Spices
Old Hamlet's Fairtrade mulling wine mix is a simple-to-use, family recipe that will flavour one bottle of red wine. Hand-blended in the UK to Old Hamlet's original recipes from the 1970s, then lovingly packed into Royal Stuart drawstring bags that are sewn in the UK, these make a great party gift or stocking filler.
Also available for Mulled Cider.
Price: £3.85 each (contains 4 sugar & spice sachets)
3. Old Hamlet Fairtrade Calico Mulling Spice Gift Set
Three of Old Hamlet's iconic Calico Bags filled with Fairtrade Spices for Mulling Wine, Cider and Whisky Toddy. Created in the 1970s from a family recipe, Old Hamlet's sugar and spice mixes for mulled wine, spiced cider and whisky toddy have been enjoyed by thousands over the years – simple and delicious. Blended in small batches by hand to traditional recipes and packed in calico drawstring bags which are printed and sewn in the UK, Old Hamlet's Fairtrade Mulled Wine, Spiced Cider and Whisky Toddy Spices make a great gift or for your own enjoyment – cheers and slàinte!
Price: £10.00 per box (3 bags each containing 4 sachets)
4. Steenbergs Arabic Spice Gift Box
Four of Steenbergs popular Arabic spice blends in a new gift box, complete with colour recipe card. Containing Za'atar, organic Dukkah, organic Harissa with Rose and Ras al Hanut as well as an enticing set of recipes, this box will set you off into the aromatic world of Arabian cooking.
Price: £12.00
Steenbergs Christmas recipes:
Steenbergs Chilli Piccalilli – delicious with cold meats
Steenbergs Lebkucken – delicately spiced German biscuits
Steenbergs Mince Pies – filled with festive spices
Steenbergs Mulled Wine – the prefect recipe for our spice sachets
All products are available from selected independent retailers or online at www.steenbergs.co.uk.
Our Curry Culture T Shirts Also make the perfect gift – just saying!