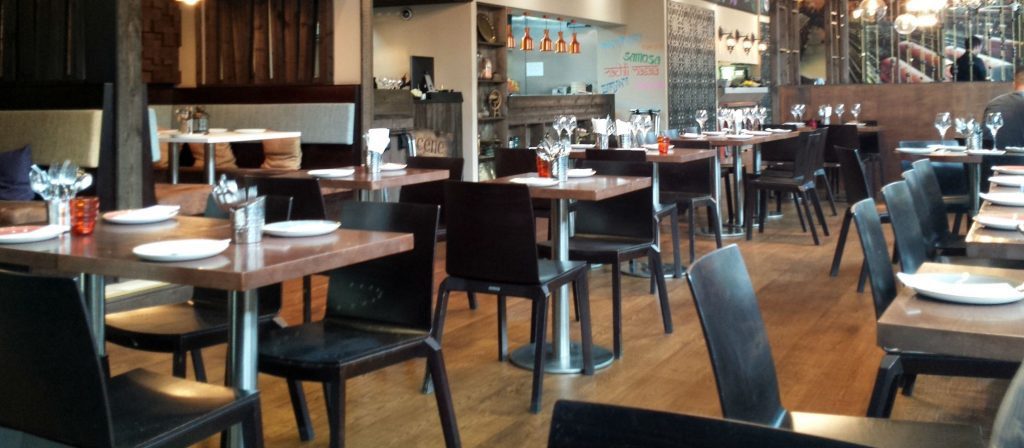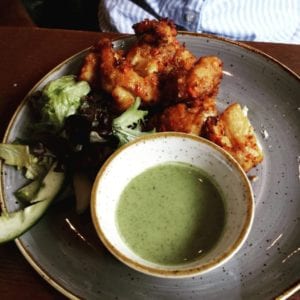 Another new restaurant joining the "street food" craze, Scene offers a full menu in the evenings and Thalis at lunchtime (and they aren't on the full menu which is a shame). I visited and tried the evening menu and it was excellent, here's my 60 second review of Scene
Ambience 8/10: This is a modern new restaurant in Spinningfields with plenty of different styles of seating inside and out. It's also very big, so lots of space. One slight niggle is that we were marched past all the nicest seats and booths to the end of the restaurant but still a really nice interior and layout.
Service 9/10: Excellent service, very friendly staff, food arrived at just the right speed.
Food 8/10: The star dish was the Fish Amritsari starter (10/10 pictured – sorry for the quality) which we both thought was fantastic. We also ordered the Chicken Chapali Kebab (also good) and mains of Banjari Gosht Rajasthani (excellent) and Chicken Jaipuri. The last dish would also have been a 10/10 had it not been for the chicken itself which we think was pre-cooked and then added to the sauce towards the end, which left is slightly dry and a different temperature to the peppers and sauce.
Overall 8/10: Very good, with a great menu that gives you something different to choose from. Could be even better if they served Thalis in the evening and sorted out the minor niggles. There are several sharing dishes on offer in their Desi Dhaba section that we didn't try but looked interesting. Will definitely be going back.
To see their full menu visit their website here.