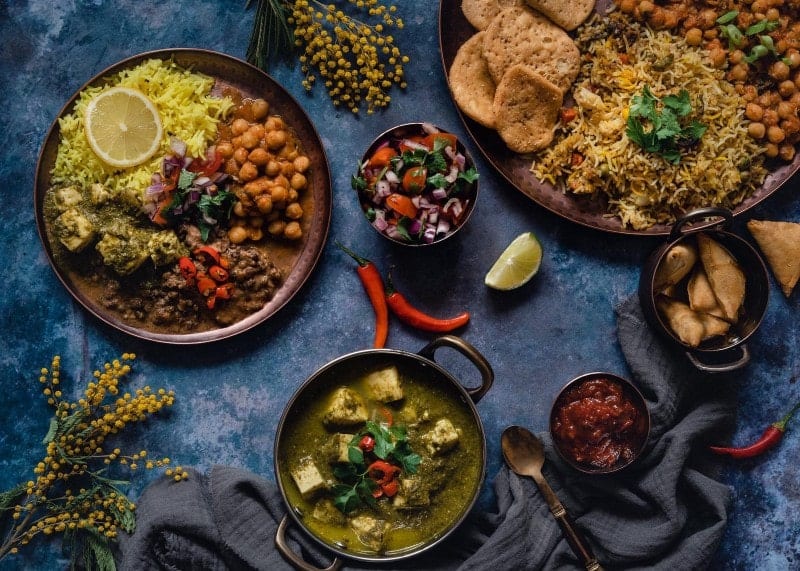 Having been lucky enough to try some of Mandira's food recently, this looks like one good option for those of you who celebrate Valentine's Day. Whatever you decide to do, we hope you will support your local restaurant or hospitality business because they will have been having a horrible time for many months now and if you want them to survive you need to buy something from them (and not look for too much discounting!).
Mandira's Kitchen have put together a romantic Indian meal for two that can be delivered frozen to any UK Mainland address.  It can be heated from frozen in just 4 minutes so there is no need to waste ages in the kitchen
Bringing some spice to Valentines Day, Mandira's Kitchen have prepared a set menu which includes: – Selection of samosas; Chicken Rezala / Paneer Butter Masala; Cashew and Cranberry Pulao; Alu Gobi; Dal Makhani; Naan Bread; Spiced Crackers; Tomato and Date Chutney; Mango and Cardamom Gelato; Chai and some free heart shaped chilli chocolates – all for £50 including delivery. Mandira's Kitchen has also teamed up with Albury Organic Vineyard and Silent Pool Distillers to give you the option of adding wine or gin to your order.
Mandira Sarkar, owner and founder of Mandira's Kitchen is very keen to spread a little love during lockdown with her delicious food and says:- "You cannot love well if you have not dined well goes the old saying.. so, our Valentine day menu woos your eyes and your tastebuds. Fragrant rice studded with cranberries, delicate chicken in a mace flavoured gravy, smoky dal simmered overnight, and chocolates infused with our home grown chillies". Clearly all designed to recreate the perfect romantic meal at home.
All items can be ordered online from https://www.mandiraskitchen.com/product-category/valentines-day and either collected from Mandira's Kitchen at The Silent Pool Guildford or delivered to any UK Mainland address.