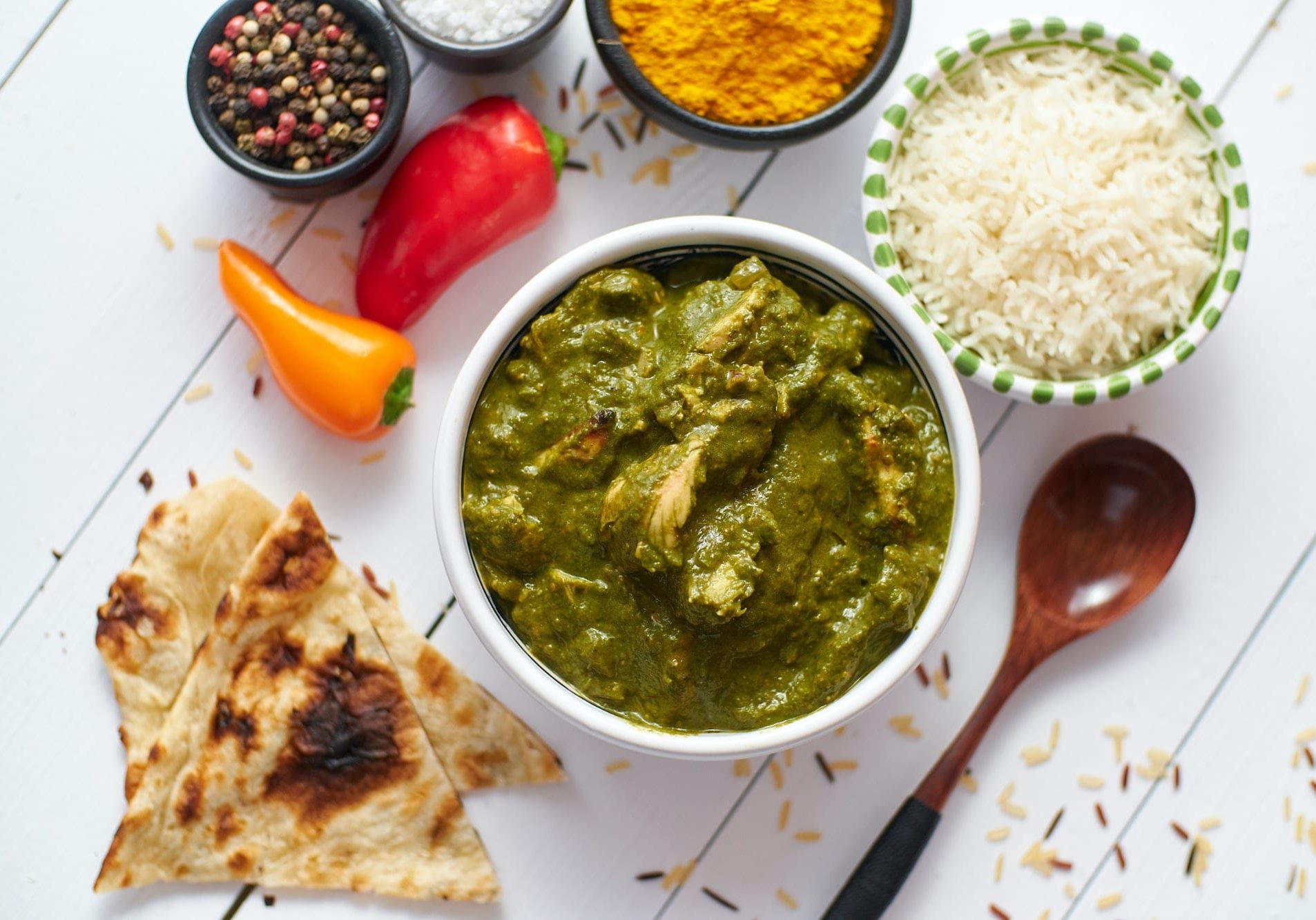 Here is an interesting mint flavoured recipe, Pudina Murgh Masala, courtesy of Itihaas restaurant in Dalkeith, Edinburgh.
The recipe offers an exciting twist to a traditional bhindi masala and is made with chicken (murgh) and mint leaves.
Let us know what you think of this recipe.  Was it easy to follow, how did it turn out?  Share your experiences and pictures with us on our Facebook and Twitter pages.
How to Make
Pudina Murgh Masala
Serves 2
1. Cut the chicken breast in small pieces wash in cold water. Leave to drain and place on a plate and leave to one side.
2. Place oil into a non-stick pan and heat on low heat for approximately 1 minute. Add the chopped garlic and ginger to the oil and stir with a wooden spoon until it changes to a semi-brown colour.
3. Add the finely chopped onion and red pepper and salt to taste. Stir with spoon and let it cook for a few minutes. Add half a cup of water, cardamom, cinnamon and bay leaves and cook until soft and stirring as required.
4. Add the chicken and cook for approximately five minutes on low heat until the chicken changes colour.
5. Add the tomatoes and cook until they become soft (approximately five minutes). Add the turmeric powder and stir with a wooden spoon. Add all the remaining spices and stir and cook on a low heat for approximately 15 minutes.
6. Once cooked, add the finely chopped fresh mint leaves and coriander and gently stir it in. Serve with boiled rice and enjoy.
Ingredients for
Pudina Murgh Masala
2 x skinless and boneless chicken breasts
1 x large onion, finely chopped
2 x tomatoes, finely chopped
1 x small red pepper, finely chopped
2 x baby leaves, chopped
1 x stick of cinnamon, broken into small pieces
5 x pieces of cardamom
2 x tablespoons of fresh mint leaves, finely chopped
1 x garlic clove, finely chopped
1/2 inch ginger piece, peeled and finely chopped
2 x tablespoon mustard oil
Salt to taste
2 x teaspoons of medium hot mixed curry powder
1 x teaspoon of mild chilli powder
1 x  teaspoon Garam Masala
1/2 teaspoon turmeric powder
Small bunch of fresh coriander leaves, finely chopped
1/2 tea cup of water