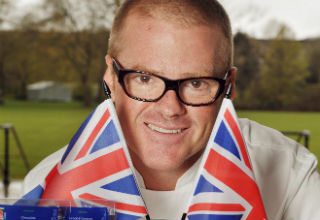 Heston Blumenthal has a reputation for creating the weird and wonderful when it comes to cooking. He therefore, possibly wasn't the obvious choice in rustling up a traditional Jubilee picnic in the gardens of Buckingham Palace at the weekend.
The chef, who has three michelin stars, devised an updated version of coronation chicken as part of the 5 course picnic for the 13,000 lucky guests attending the Queen's Diamond Jubilee concert on Monday evening.
"My family used to go for picnics in Windsor Great Park and I used to try and wolf it down before everyone else. It's just the ultimate curry" he said. His particular modern take on the old classic included a special and secret blend of Indian spices with mayonnaise, shredded chicken, coriander and peppery nigella seeds.
The luxurious picnics, served in a wicker basket also included a voucher for a glass of Moet and Chandon champagne or Cobra beer, in addition to other delicacies, all tasted and given the seal of approval by Her Majesty herself.  The Queen did not eat coronation chicken at the Buckingham Palace banquet following her own coronation however!
Photo credit: John Stillwell/PA Wire