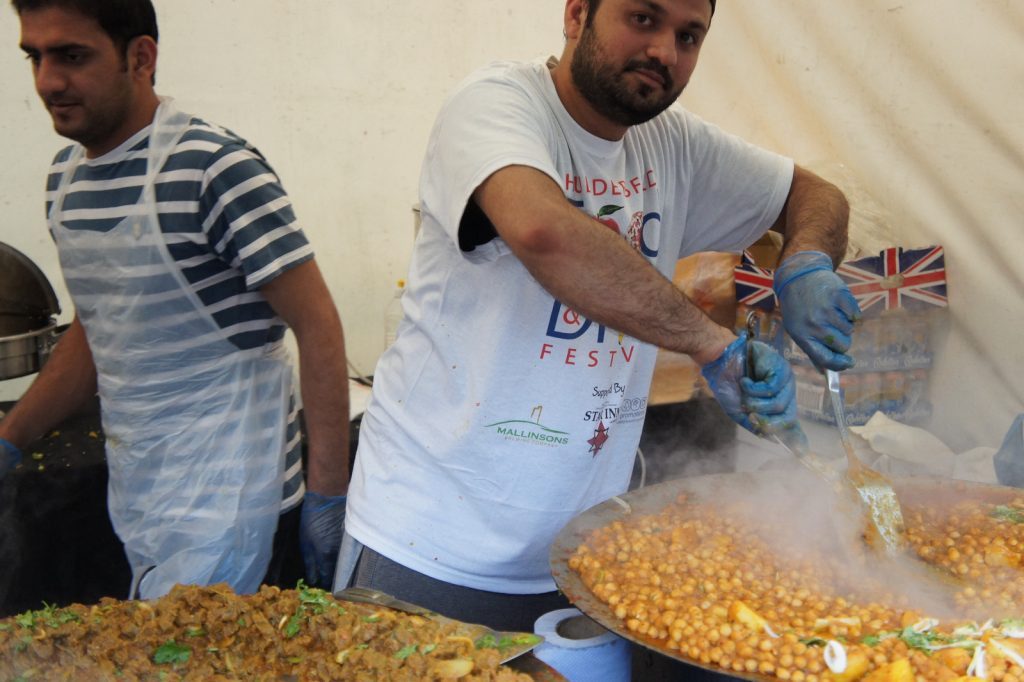 We know that one of the things that's so great about curry is its ability to bring communities together. Whether it's in your favourite Indian restaurant with friends or a home cooked meal with the family; curry is a fantastic treat that gets us around the table enjoying ourselves. But what is it about curry that's so appealing to so many people? Well obviously it's delicious. But curry is also extremely cheap to make, with its versatility and richness, curry is the quintessential food economiser. Highly nutritious and really quite easy to prepare; it's no surprise then that Curry is often the dish of choice for community cooking events.
In June, in Manchester, two organisations, Friends of the Earth and a relatively little known one called Feeding5k, set up marquees in the city centre and began serving up a delicious free vegetable curry made from donated produce deemed cosmetically unfit for sale in supermarkets and other outlets. The public went mad for it and in just under three hours, the industrial scale cooking pot full of curry had completely run out and around five thousand people had managed to score a delicious free lunch. These events have been running since 2009, starting in London, in order to highlight concerns about food waste. and the tradition of using curry to make food go further is an ancient one.
Throughout Ramadan, the Islamic community, both in the UK and in places elsewhere, will be intensifying charitable work through donations and volunteering. Dealing with hunger has long been a deeply significant tenet of Islamic culture; many observe the Iftar (breaking fast) as a time to be charitable and share food with others. Throughout the year, organisations like Islamic Relief stress the importance of alleviating food poverty as a primary duty for Muslims to contemplate, with its campaigns sending food aid to some of the poorest parts of the world, as far as Yemen and West Africa.
In Preston, on Saturday 3rd of August, local volunteers will be preparing and serving curry to the homeless. The event organiser, Hussain Master, explains: "Ramadan is a time when Muslims can experience what it feels like to be literally starving and it's this empathy that has led us to come together as a community to share our food with those who are less fortunate.' This is just one of many events taking place throughout the world but one that typifies the spirit of Ramadan.
We want to express our sincere support for the work of these fantastic volunteers and we'd to hear about your experiences of curry in the community and any tips on making food go further.