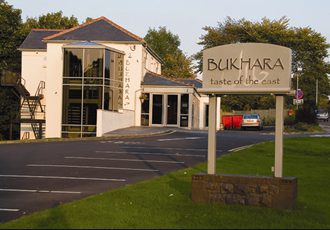 Bukhara in Samlesbury near Preston is a modern, out of town restaurant ideal for the whole family.
They don't serve or allow alcohol (no BYOB) so this makes it popular with a wide ranging clientèle.
One of the Curry Culture team visited with their family recently and this is their impression:
Our 60 second guide to Bukhara:
Service – 7 out of 10 – Although we were welcomed when we arrived, we were left standing for several minutes before a table was cleared and we were seated.
They weren't jam packed so we felt this could have been done before we arrived and then we would have been able to sit right away.
Ambience – 8 out of 10 – We liked the fact that there wasn't any naff background music and because there is no alcohol on site this makes for a nice family feel. The open plan kitchen is also a good touch and allows diners to see everything that's going on.
Food – 9 out of 10 – The Paneer Shaslik was out of this world and beautifully presented. We were also very pleased with the Chilman Biryani, a house speciality – oven baked with a crispy pastry covering. We also tried their Mango Salad which was delicious. The food was definitely their strongest element.
Overall we were happy with our visit and more importantly – the kids were happy. It's not the cheapest venue and we had to have a drive out to get there, but it was worth it. If they tighten up on their customer service it will be hard to beat.
For more information on this restaurant visit the Bukhara website .