With summer now in full swing, the time for a holiday in the sun has also come. Exploring a foreign country, experiencing its culture and… discovering unexpected curries!
So even if curry is widely known as originating from India, you can find it in a variety of countries, mainly in Asia, the Caribbean and do we even need to mention the United Kingdom? But you might also come across it in some more surprising places. Here is an overview of holiday destinations where you wouldn't expect to find curry, from Britain's neighbours to those at the other end of the world.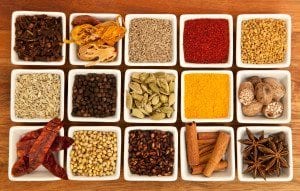 France: We have already covered the French curry matter, but a reminder cannot hurt. Besides, this curry is only available in the region of Brittany which is a major (and beautiful) French destination in the summer.
Sweden: Perhaps the last place on Earth you would expect to find curry. With over 20 hours of sunshine a day in summertime, now is an ideal time for those not keen on visiting when it's all snow and it's dark all day long. The Swedish are also known for their refreshing creativity, from furniture to pizza. Indeed, one of the most popular dishes in Sweden is Banana Curry Pizza. Yes. Curry powder is widely used as a pizza topping, banana or not.
Hawaii: If your morning spent surfing in the Pacific Ocean to the sound of the ukulele while wearing a flower necklace (cliché?) whetted your appetite, take a seat in any local café to enjoy a typical Hawaiian Curry Stew. This beef and potatoes based stew served with steamed rice is a lunch favourite in the tropical American state.
Mexico: If Indian and Mexican food don't seem to have anything in common at first sight, they're actually not so far apart: they're both heavily spiced, often with identical spices. So this naturally led to a new food trend: Indian-Mexican Fusion. And so Mexican curry has seen the light (not that it was especially complicated to make up since all you have to do is throw a regular Indian curry in a tortilla). Truth be told, this trend might not actually be a huge hit in Mexico, but it sure is a few miles North, in California.
Brazil: They may not have won the World Cup but Brazilians still have a lot to be proud of. For instance, Xinxim de Galinha, a special chicken curry from Bahia. The key elements of this curry? Chicken is braised in coconut milk alongside dried shrimps and is considered a classic. A must-try for all curry lovers if ever in the country of samba (not sure you'll be able to dance afterwards though).
Mauritius: Last but not least, a tropical island in the Indian ocean. Mauritian curry-based dishes might actually not come so much as a surprise given that Mauritians mostly have their origins in India and the Caribbean. What is more unexpected is the island's very popular curry: the Octopus Curry – definitely not your average Tikka Masala, and certainly quite an experience.