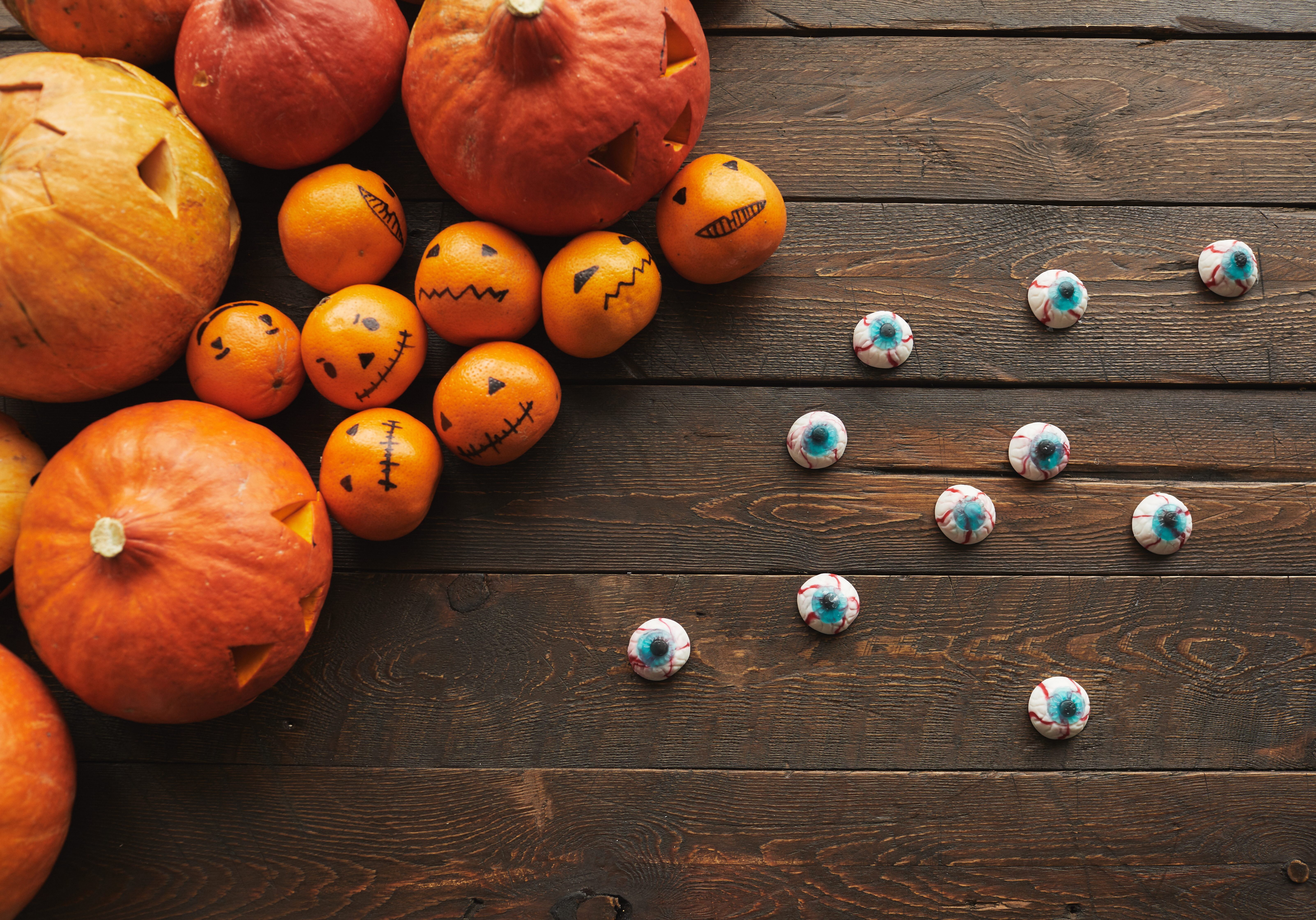 Of course curry and Halloween have no links at all but in case you're having a party and need some inspiration, I am quite keen on the eyeballs floating in your food idea.
You could of course get hold of some real ones for a lucky dip effect!
How to Make
Spooky Pumpkin and Eyeball Curry Recipe
Instructions:
Prepare the spooky eyeballs: Cut each boiled egg in half and remove the yolks. Place a sliced black olive in the center of each egg white half. Use the chilli suace or ketchup to create the "bloodshot" effect by drawing lines from the olive to the edge of the egg white. Set the eyeballs aside.
In a large pan, heat some vegetable oil over medium heat. Add the chopped onions and cook until they become translucent, about 3-4 minutes.
Add the minced garlic, red pepper, and cubed pumpkin to the pan. Cook for another 5 minutes, or until the pumpkin starts to soften.
Stir in the curry powder, ground cumin, ground coriander, ground turmeric, and red chili flakes. Cook for 2 minutes to toast the spices, stirring constantly.
Add the chopped tomatoes and coconut milk to the pan. Stir well to combine all the ingredients. Bring the mixture to a gentle simmer, and let it cook for about 10-15 minutes, or until the pumpkin is tender.
Add the chickpeas and cooked chicken (or tofu) to the curry. Simmer for an additional 5 minutes, or until everything is heated through.
Season the curry with salt and pepper to taste.
Serve the pumpkin and eyeball curry in bowls, and garnish each serving with spooky eyeballs and fresh coriander leaves.
If you do try this then send us your pictures!
Ingredients for
Spooky Pumpkin and Eyeball Curry Recipe
Ingredients for the curry:
500g pumpkin, peeled and cubed

1 can (400g) chickpeas, drained and rinsed

200g cooked chicken (or tofu for a vegetarian option), cubed

1 onion, finely chopped

2 cloves garlic, minced

1 red pepper, chopped

1 can (400g) chopped tomatoes

200ml coconut milk

1 tablespoon curry powder

1 teaspoon ground cumin

1 teaspoon ground coriander

1/2 teaspoon ground turmeric

1/2 teaspoon red chili flakes (adjust to your spice preference)

Salt and pepper to taste

Vegetable oil for cooking

Fresh coriander leaves for garnish
For the Spooky Eyeballs:
8-10 boiled eggs, peeled

Black olives, pitted and sliced into rings

Chilli sauce / ketchup
Links to other recipes and useful information about this recipe: