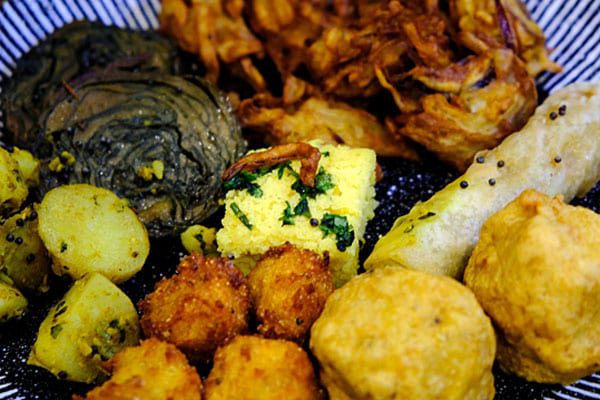 If you have £10 and are looking for a great meal and are fortunate enough to live within striking distance of Bury Market, head over to Naunit's and pick up one of their £10 meals. They also do a £20 deal for a larger family.
We tried one this weekend and it was absolutely delicious. It's all vegetarian and some of the dishes will be familiar and some not.
Starting with a couple of poppadoms with a nice salsa, mint dip and very sweet mango chutney (pretty much a mango smoothie) all of these will be well known to you.
Next came the mixed starters which included onion bhajis, patra (more on this below), vadas (a spicy mash potato ball – very good), bombay potoatoes (spicy), dhokla (the cake thing in the middle of the picture) and a spring roll with a mildy spiced filling.
So the patra was a first for us and is the purple vegetable that apparently are colcocasia leaves. This explanation didn't really help either as I have no idea what they are, but regardless of this, they tasted great. Quite a solid vegetable and lightly coated in gram flour these also had a slightly spicy flavour. I think the roll of leaves is prepared, steamed and then lightly fried and I would definitely recommend you give them a try.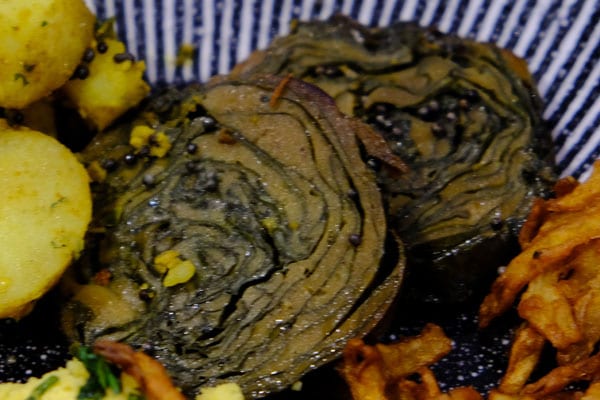 The light yellow dhokla that looks like a sponge cake is a kind of bread for want of a better description but think sour bread as it is made from a fermented batter of rice and chickpeas apparently. Great for dipping.
We finished off with a medley of three curries served with vegetable rice, these included a mixed vegetable curry, spicy cabbage and a lentil dhal. I don't know what they put in their dhal but it was quite sweet and tasted lovely. One of the best dhals we have had recently.
As an extra we also tried their mung bean dhal, which came with a yogurt sauce that we mixed together after heating them both up. This has a delicious rich flavour and finished off what was the best value meal I have had this year.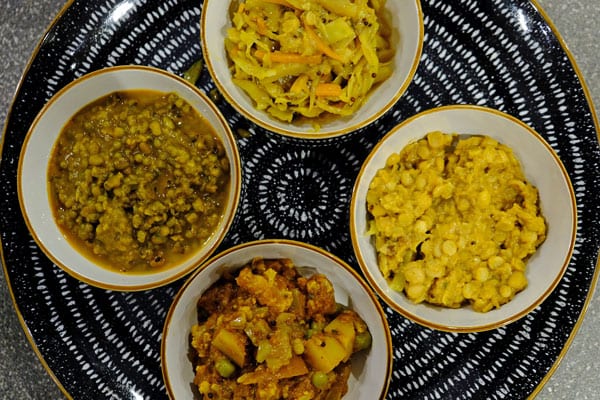 Give them a try if you are in the vicinity and they also deliver to the Bury area, details are on their Facebook page as is their full menu – Naunit's Gujurati Street Eats.
Note: we paid for this meal and have no affiliation with Naunit's – it's just great food.