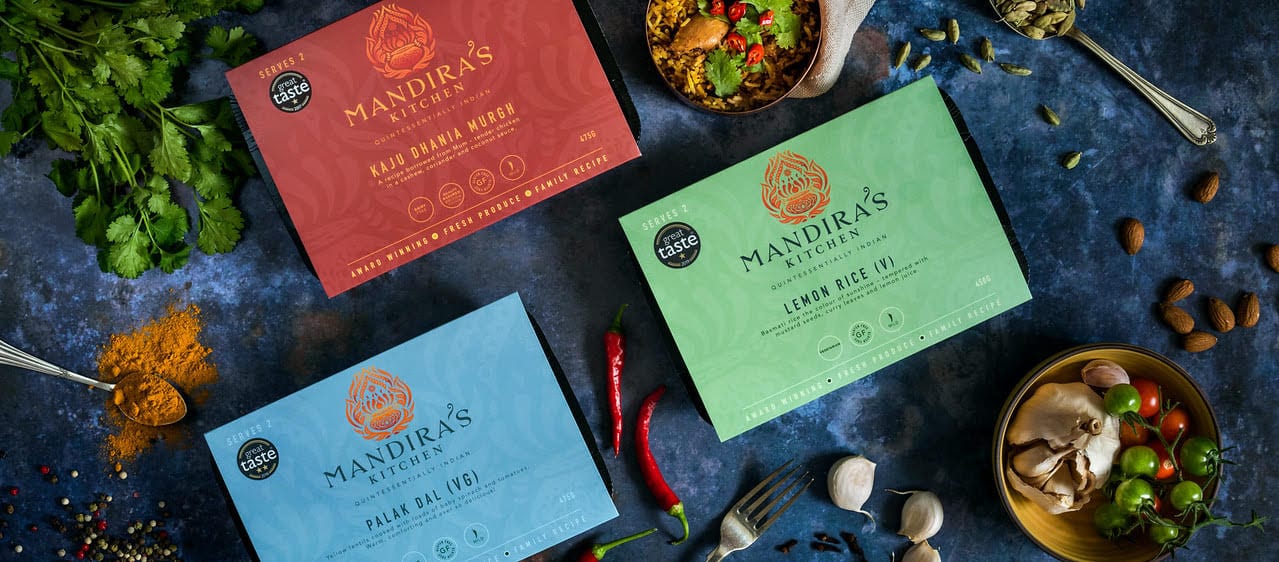 We were fortunate enough to receive a sample of some of Mandira's Kitchen Indian freezer meals last week and having had the chance to try them over the last few days, here's what we thought.
Mandira's Kitchen, based in Surrey, offer hand made, small batch Indian meals prepared with fresh produce made to family recipes. These are then frozen and delivered to your door ready for eating right away or for storing in your freezer for up to 6 months.
We went for the first option and pretty much ate them right away and we were glad we did as overall, they were lovely.
Rather than try to write long "Rayneresque" prose about the food, I thought I would share the full experience so you know what you're going to get, so here we go…
Unboxing the Meals
Each meal comes wrapped in a cardboard sleeve, with two individual portions inside, so basically two cardboard trays with the plastic film across the top as per a normal ready meal. The whole box arrives in a polystyrene outer case with the meals packed inside and ours had a couple of cooler packs to keep everything well frozen. They certainly were completely frozen solid when I unpacked ours.
Preparation
Once unpacked the meals can be oven cooked or microwaved and I really liked the fact that there were two separate portions in each packet as this is ideal if you want to split them and save half for another time, as we did with our dal makhani.
I have to say that freezing and packing freshly cooked food does nothing at all for its appearance, but don't be put off by that, these really are several levels above your normal ready meals.
The Food
We tasted the following dishes over two meals (not all at once!):
Dal Makhani
Vegetable Biriyani
Chicken Biriyani
Kaju Dhania Murgh
Tomato and Date Chutney
Orange and Gin Chutney
And our overall impressions were excellent. The food had that home cooked feel about it as promised and some dishes were as good as any we have eaten in a restaurant. The seasoning and spice levels were just right.
The stars for us were the Kaju Dhania Murgh, which is a chicken curry made with cashew nuts and coriander. I have no idea how they cook their chicken but is was beautiful. The spice level was in no way bland, so don't look at the cashew nut sauce and think – creamy korma, it's not one of those and has far more depth and medium heat levels. Mrs Curry Culture went so far to say that
"if they served this in restaurants I would order it every time".
My favourite was the chicken biryiani which I ate with the tomato and date chutney. I love a good chutney and this one is a belter, sweet from the dates and I imagine it will be great with a strong cheddar.
I think if you are local to their shop these dishes would be even better as the rice in the biryiani does suffer a little from being frozen and reheated. This didn't change the flavour but you can't beat a fresh cooked rice dish.
In Conclusion
So a great option if you want to enjoy some really delicious home cooked food, well worth the extra you pay for them. We have already recommended them to family and friends and will definitely be ordering from them ourselves in the future.
One request we would make is for them to look into adopting some more environmentally friendly outer packaging as the polystyrene boxes aren't ideal.
If you would like to find out more about Mandira's Kitchen you can visit their website here or follow them on Facebook.
Note: We have no affiliation with Mandira's Kitchen but did receive these products free of charge for reviewing. We are offering you our opinion on their products and the overall service we received and are not being paid for this post. Apologies for the photos, I know they are rubbish.