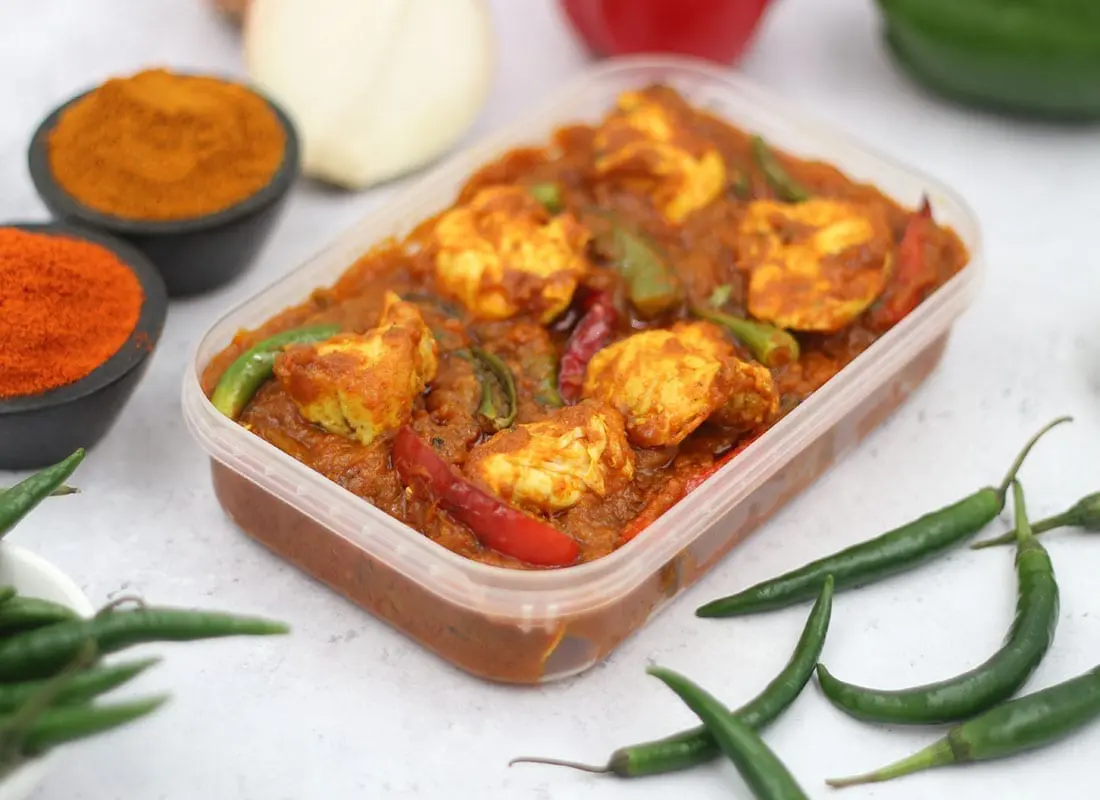 East at Home were kind enough to send me a sample "meal at home box for 2" to try last week, so although this is not a paid promotion, the box was sent free of charge. I will always review products honestly, so here is what I thought.
The pandemic has driven home food delivery offerings through the roof and East at Home fits into the relatively new space of fresh cooked food from a restaurant kitchen but delivered chilled for you to finish preparing at home when you are ready.
This makes a having a "takeaway" style meal easier to plan as you can take the delivery one day and eat the next. No worries about late deliveries, or cold food.
So the meal box included, Onion Bhajis, Chicken Shashlik, Chicken Jal Frezi, Chicken Bhuna, Bombay Potatoes, Pilau Rice and a Naan. This is a large meal for two and could easily feed more, in fact we had some left over for a second meal. No problems with the portion sizes, the photos on the website are accurate (I have included a few in the gallery) and the delivery was well organised and on time.
The food tastes pretty much exactly as you would get at a restaurant, if you like these dishes I think you will find they are nicely cooked, well spiced – my Jal Frezi was hot but not insane and they are certainly a step up from supermarket ready meals. So you can add some garnishes and pickles and you have a restaurant style Indian meal that will feel very familiar to those who eat at their favourite local curry house.
For me the Onion Bhajis were excellent, lovely and crisp on the outside even after being reheated, but the Chicken Shashlik suffered from the chicken being a little dry. I am not sure what can be done about this as once chicken breast is cooked and chilled it's going to get dry and if you don't have a sauce as you have with the mains, then you can't really hide this.
The main dishes and rice were all very nice, well spiced, plenty of chicken and a good sauce and the naan was really good. I hate supermarket naan and takeaway naan always seems to go a bit soggy during delivery but this precooked and then reheated in the oven version was delicious.
Overall then a solid choice for the traditional curry lover, with this mealbox priced a £21.99 (they are offering a 10% discount currently) and delivery between £2 and £4 depending on where you live. They don't deliver outside of the local area at the moment but are promising nationwide delivery soon. Orders over £30 are delivered free for local postcodes and for orders over £40, are free further afield, so essentially £10 per person for a large meal.
My one wish would be a little more adventure in the menu. I don't know who they are targeting but if I order a meal that I am going to finish cooking at home, I want it to be something more unusual. I can cook a chicken bhuna and jalfrezi so want some choices that I don't know how to prepare. I worry that as things open up and meals out are as they were before, this menu will find itself squeezed out. It's perfectly nice food but I would like to see a bit more originality and more choice.
For more information you can visit their website here: East at Home