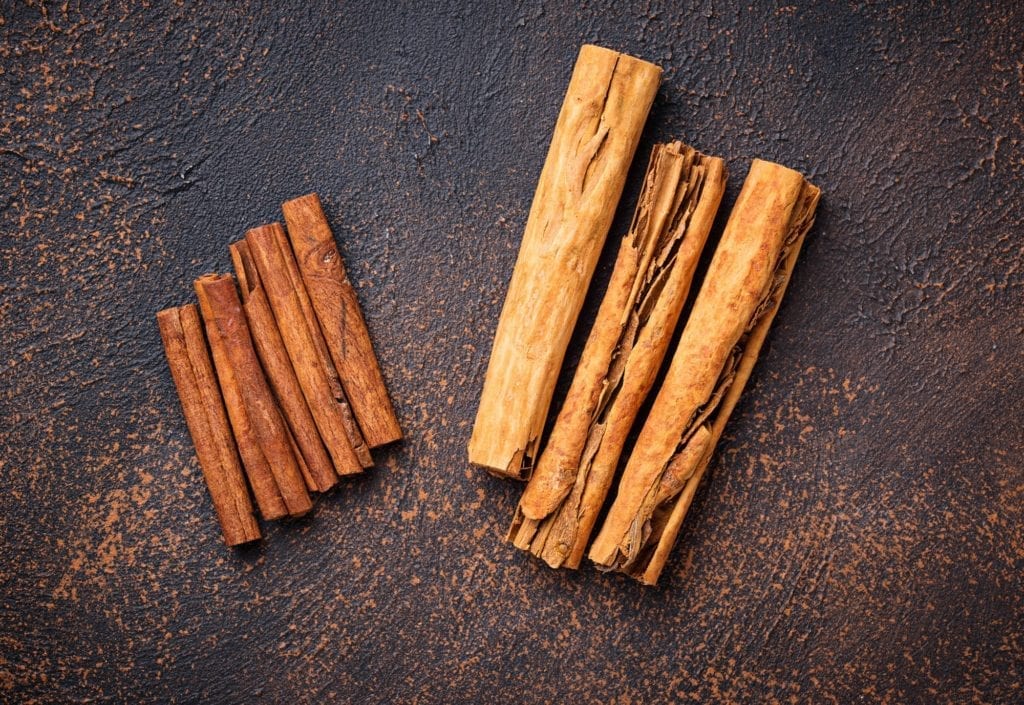 Cassia Bark is also referred to as Chinese cinnamon and even bastard cinnamon (!), this is one of several species of cinnamon used mainly for its aroma. The buds are also used as a spice in Indian cooking. Cassia is shown on the right on the photo, Ceylon cinnamon on the left.
Background
Cassia Bark is similar to regular cinnamon, but it is more pungent and has a less delicate flavour. In its unground form the bark is also thicker than cinnamon sticks.
It is used as a flavouring in recipes and in the production of liqueurs and chocolate.
The bark is peeled from stems and branches and then dried. The colour can range between light reddish brown and grey. Ground cassia is reddish brown.
The buds smell like cinnamon and taste sweet. They look similar to cloves.
Cassia bark is generally less expensive than cinnamon.
In Indian cooking cassia is sometimes referred to as dal chini (bark) or nakeser (buds).
Types
There are five species of cassia originating from China, Vietnam, Indonesia, Sri Lanka and India.
The most highly regarded cassia is produced in Vietnam.
Vietnamese cassia has the strongest flavour, Chinese cassia has a sweeter flavour than Indonesian cassia and is closer to Vietnamese cassia.
Indian cassia leaves are also used as herbs (tejpat). They are sometimes referred to as Indian bay leaves and are very different in taste to common bay leaves from Europe.
Uses for cassia bark
Cassia bark can be used whole in stews, casseroles or curries and the bark, which is curled into quills when dried will flatten whilst cooking. Alternatively, you can buy ground cassia to include in your dishes. The whole buds can also be used for flavouring dishes.
Whilst cinnamon is used for sweeter dishes, cassia is mainly used in spicy dishes, particularly curries and pilau dishes.
Medicinal uses for cassia bark
The oil from cassia is sometimes used to treat flatulence and nausea. It is also used to treat diarrhoea.
It is considered one of the fifty fundamental ingredients of Chinese medicine.