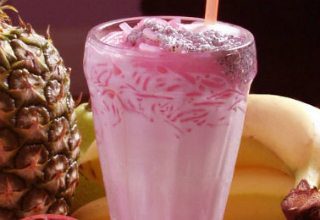 Many restaurants offer a selection of Asian desserts, frozen or freshly prepared, for those of us who like to finish the meal off with something sweet, so we decided to give some of the most popular a try. Here's what we thought…
Funky Pie Ice Cream
The Funky Pie is a biscuit crumb case, filled with vanilla ice cream and topped with toffee and crushed hazelnuts. The base we found to be very gooey and rather like a flapjack or cheesecake base in texture and taste. Although it was nice, it was also pretty heavy and not really what I would choose after a large meal.
My kids on the other hand, they would probably live on the stuff given the choice.
Maharaja Kulfi
Kulfi is a frozen ice cream style dessert very popular in the Sub-Continent.
We tried a pistachio version rather grandly named the Maharaja Kulfi and it was absolutely delicious. It was light, fresh and a really great post-curry dessert.
Kheer
If you're lucky enough to be in the right place, you may also find Kheer on the menu. This is South Asian rice pudding and is lovely when made correctly. Served with raisons and nuts it is flavoured with saffron and cardamom.
It is very much a dish for a special occasion and can also be made from vermicelli rather than rice.
Falooda
More of a drink to be true but this is also worth a try if you come across it. Originating in Persia it also contains vermicelli as well as basil seeds, tapioca, rose syrup and milk or ice cream. Every venue has their own recipe- it's a bit like a really mental milk shake with chef's trying different flavours whenever it takes their fancy.
As always let us know what your favourite dessert is and we will hunt it down for a review.